Belladrum Tartan Heart festival 2022 Tickets
About Belladrum Tartan Heart festival 2022
Belladrum Tartan Heart Festival 2022

It is with deep regret that the organisers have had to take the hard decision and postpone the festival until 2022.

ALL 2021 ticket holders have the option to transfer their tickets to the festival in 2022. However, if you cannot make the 2022 festival, you may obtain a full face value refund for all tickets purchased.
---

Belladrum Tartan Heart Festival is a firm favourite on the festival calendar, with a loyal following of fervent fans that return year on year.
With fantastic music ranging across a variety of genres - indie, rock, Dance, Celtic, Celtic rock, blues, roots, singer-songwriter and many more - as well as a brilliant array of children's entertainment, street theatre, cabaret, cinema, alternative therapies and food and drink so is perfect for all of the family.
One of the unique benefits of Bella is the scenery. The festival takes place in a beautiful Highland setting with terraced Italian gardens, mature trees, fields and parkland with the hills beyond.
Belladrum Festival continues to excite and enthral with its mixture of natural beauty and raw excitement, and is certainly cementing itself as a hidden gem in the festival circuit.
FAQs can be found here: https://www.tartanheartfestival.co.uk/info/faqs/
Music genres: Rock, Pop, Indie, Acoustic, Folk
Belladrum Tartan Heart festival Reviews
Our visitors have reviewed Belladrum Tartan Heart festival 2655 times. Read reviews of this festival »
Average rating:
4.4/5
from 2655 reviews
Belladrum Tartan Heart festival line up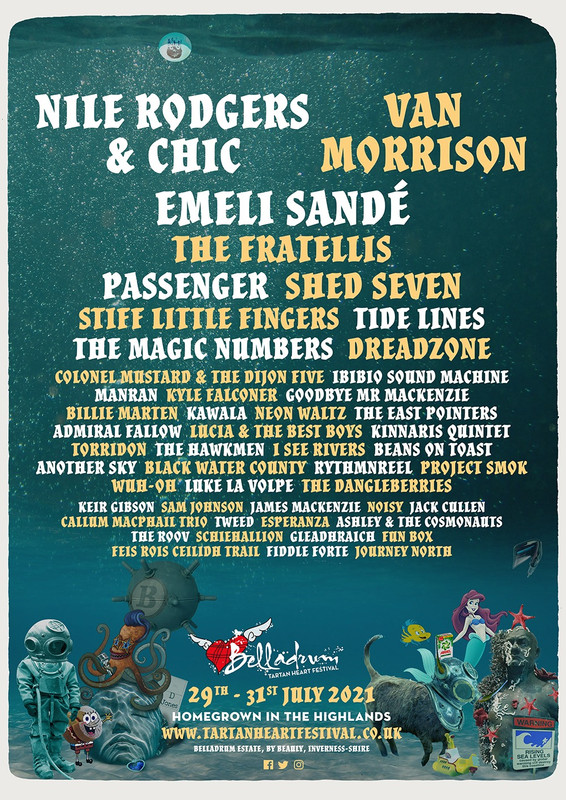 Nile Rodgers & Chic / Van Morrison / Emeli Sande / The Fratellis / Passenger / Shed Seven
Belladrum Tartan Heart festival information & FAQs
Disabled Access Information
Travelling to/from the festival
Map of Hotels near festival site
The history of Belladrum Tartan Heart festival
Belladrum Tartan Heart festival news
Explore similar festivals to Belladrum Tartan Heart festival
Find similar festivals by exploring the categories and classifications below:
Categories: Boutique / Grassroots festivals, Mainstream / Pop Music festivals, Family Friendly festivals
Type: Family Friendly festivals, Boutique festivals festivals, Music festivals
Size: Large sized festivals
Accommodation: Quiet Camping facilities, Standard Camping facilities, Caravan facilities, Luxury / VIP Camping facilities, Campervan facilities
Amenities: Showers, Luxury Toilets, Toilets, Luxury Showers
Attractions: Silent Disco, Extreme Sports, Kids Area, Fairground, Cinema / Film screenings