Belladrum Tartan Heart 2019 Line up
The lineup for Belladrum Tartan Heart can be found below:
2019 line up announced so far...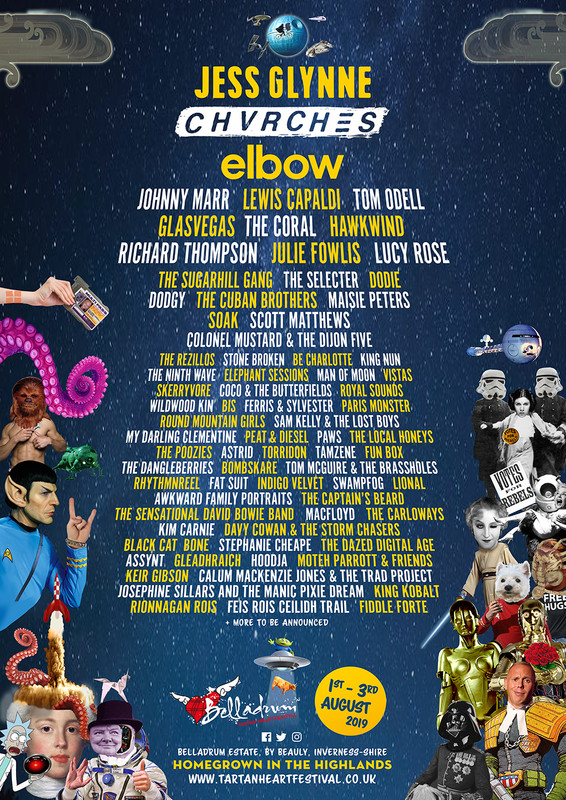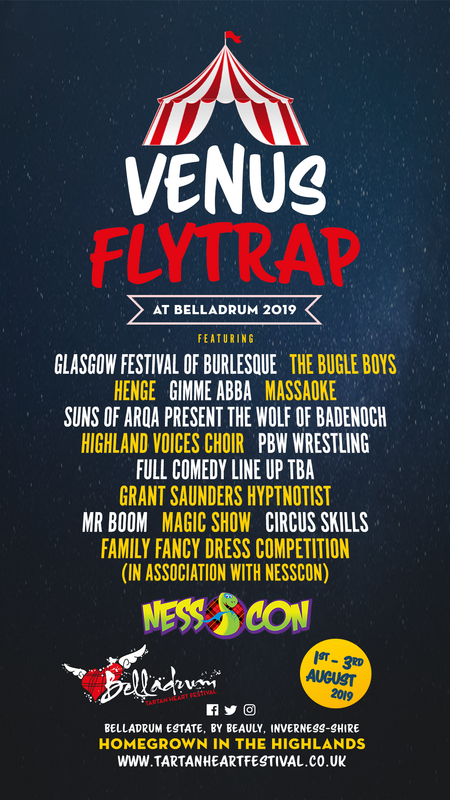 Recently announced...
The Sugarhill Gang
Maisie Peters
Soak
Scott Matthews
Stone Broken
Be Charlotte
The Ninth Wave
Man Of Moon
Vistas
King Nun
Indigo Velvet
Black Cat Bone
Stephanie Cheape
Previously announced...
Elbow
Tom Odell
Lewis Capaldi
Jess Glynne
CHVRCHES
Glasvegas
Johnny Marr
Hawkwind
The Coral
The Selecter
Colonel Mustard & The Dijon 5
Skerryvore
CoCo and The Butterfields
The Poozies
Torridon
The Dangleberries
Bombskare
Tom McGuire & The Brassholes
Rhythmnreel
Awkward Family Portraits
Fun Box
Rionnagan
MacFloyd
The Sensational David Bowie Tribute Band
Richard Thompson
Round Mountain Girls
Sam Kelly & The Lost Boys
Lional
The Carloways
Davy Cowan & The Storm Chasers
Hoodja & Gleadhraich
Keir Gibson
Calum Mackenzie Jones & The Trad Project.
DIY
Dodie
Julie Fowlis
Dodgy
Lucy Rose
The Cuban Brothers
The Rezillos
Elephants Sessions
Royal Sounds
Wildwood Kin
Paris Monster
My Darling Clementine
Astrid
Peat & Diesel
Ferris & Sylvester
Paws
The Local Honeys
Tamzene
Fat Suit
Swampfog
The Captain's Beard
Assynt
Kim Carnie
Moteh Parrot
Josephine Sillars & The Manic Pixie Dream
King Kobalt
Feis Rois Ceilidh Trail & Fiddle Forte
Gimme ABBA
Henge
Suns of Arqa
Grant Saunders Stage Hypnotist
+ lots more to be announced...
Got your Belladrum Tartan Heart tickets yet?
Belladrum Tartan Heart Festival 2019, Inverness
Thursday 1st August 2019 - Saturday 3rd August 2019 tickets:
Belladrum Bar Tokens, Inverness
Thursday 1st August 2019 - Saturday 3rd August 2019 tickets:
Last Year's Belladrum Tartan Heart Lineup
Belladrum Tartan Heart Line Up
Headliners
Thursday Night Headliner
Amy Macdonald

Friday Night Headliner
Paloma Faith

Saturday Night Headliner
Primal Scream

Gerry Cinnamon
Professor Green
Fickle Friends
Hunter & The Bear
Isaac Gracie
Broken Record
The Snuts
Martin Harley
Christy O#Donnell
Alligator
Seed of Sorrow
Carma
Macfloyd
Dirty Harry (Blondie)
Frightened Rabbit
performing "The Midnight Organ Fight"
You Me At Six
The Charlatans
Fun Lovin Criminals (Thursday night)
Ward Thomas (Thursday night)
Rosanne Cash
Beth Orton
Songhoy Blues
The Craig Charles Funk & Soul Club
The Lafontaines
Lucy Spraggan
Pumarosa
Yonaka
Nerina Pallot
The Wandering Hearts
Darlingside
Tide Lines
Sea Girls
Ryan McMullan
MF Robots
Niteworks
Kissmet
Colonel Mustard & The Dijon 5
The Supernaturals
Adam Holmes & The Embers
The Eskies
Whiskey Shivers
Martin Harley
The Burning Hell
Dancing On Tables
Barbarella Bang Bang
The Rumjacks
Siobhan Wilson
Brass Gumbo
The Katet Plays Stevie Wonder
MacFloyd
Rews
Filthy Tongues
Ho-Ro
The Undercover Hippy
Tamzene
The Tumbling Souls
Noble Jacks
Torridon
Lional
The Macgills
Fun Box
The Carloways
Silver Coast
Dougie Burns & The Cadillacs
Ernest Rambles
Broken Records
The Snuts
Martin Harley
Christy O'Donnell
Alligator
Little Kicks
Seed of Sorrow
Carma
Dirty Harry (Blondie)
Headphone Disco
Clan Dextine
Andy Rough Electro Swing Set
Highland Voices Choir
Feis Ross Ceilidh Trail
 

 

Temple of Dub
Jamie Bostron
Electrikal Sound
Escape Roots ft Tom Spirals
Vixen Sound
DSR Sound
Burning Bush HiFi
Hometown Promotions
Junior Lazarou
Ziggy Gee
Ludwig
KidProQuo
Step It Up 

ICE HOUSE STAGE LINE-UP

Modern Vintage Dance Band
Lost In Rio
Dorec-a-belle
Marianna Mcgergor
Mama's Brand New Bag
Tenement Jazz Band 

MOTHER'S RUIN

Friday night will be headlined by Craigie Knowes a Glasgow based duo who have been on the scene for almost 10 years despite still only being 25! Their Craigie Knowes label has released music by some of the world's best including Bicep, Move D and DJ Overdose.

Saturday night will be headlined by Andrew McGibbon celebrating 10 years of Filth the iconic Highland club night that he started in 2008 alongside dearly departed Inverness DJ Ross Lyall.

Mother's Ruin will play host to a wide range of dance genres from House to Techno to Trance with emerging DJs such as Danger Giant Wolfhound, MW, Max & Craig, James Thomson, Cammy Harper, Rowan Spencer-Nairn, Iain Sabiston and duo Smith & Do Rego all making their debuts at Belladrum.

Established Highland heavyweights Alan MacPherson (Audiolife), MARC, Ckaz (Boobs on Decks), FLYNN, Andy Rough, DJ Dropz, Matt Lyon (Ruckus), Neil Ferguson and Fozko will also be making appearances and keeping the party going over the weekend. 

POTTING SHED 

Darren Poyzer & Pig Man, Hamish Roberts, Bill Bloomer, Les Johnson and Me, The Anarco Revue lead by James 'Bar' Bowen, Sara Bills and the Hasbeens, Lynsey Dolan Band, Libby Koch, The New Madrids, Fash Stewart & The Great & The Good, Daves New Bike, Brian Langlinias, Patterson Barrett & Spider MacKienze, Dropkick, Rachel Laven, The Rosellys, Trident, Cousti,I See Hawks In LA, The Potting Shed All Stars, Matt Morrow, Rebecca Dunn, Calum Mackenzie Jones, Dave Sharp, Dougie Burns Cadillac Band,The Galipaygos, Captain Of The Lost Wave, The Emma Mitchell Band, The Cowans and The Federals

THE MEDICINE SHOW RADIO MOOSE MOBILE STAGE

Joe Hills Wake, Darren Poyzer, Bruce Coughlan, Norrie McCulloch, Johnny Campbell, Anarcho Revue continues on the Moose Stage,The Slim Panatellas,Topher Elliot, Robin Adams, Patterson Barrett, Isaac Sutherland,The McElliots, Pig Man and the Elastic Band, Kinnaber Junction, Darrell Poyser, Pig Man and The Elastic Band, and Eagle Sessions on the Moose - Danny Mortimer Katy Robertson 

FREE RANGE FOLK STAGE

The Free Range Folk Stage in association with Glachbeg Croft returns to Belladrum Festival 2018!

Keir Gibson, Connor Johnston, Sharon Martin, Sarah Gallacher, Kelvin Ross, Alice Brown, Elis McFadyen, Wilson Noble, Stephen Mackintosh, Gordon James and The Power, Lazy Jams, Park Circus (acoustic), Niven and Gavin, Fonsecas, Alan Frew Band, Moteh Parrot, Calum Mackenzie Jones, The Trad Project, Strumness, Sons O' the soil, Donald and Peigi Barker.
Buy Belladrum Tartan Heart Tickets »
« Back to Belladrum Tartan Heart home
« Back to Festivals 2019 guide