About Junction 2 2023
Junction 2 finally returns to London for the first time since 2019 in one of the most anticipated events of 2022. Taking place across the Jubilee Bank Holiday weekend on Saturday 18th and Sunday 19th June 2022, many of the industry's most sought-after figures and rising stars will perform across numerous bespoke stages.
As the Friday's lineup represents their commitment to diverse electronic music, Junction 2 will see the genre-busting sound of Jon Hopkins, global DJ Four Tet and the chameleonic DJ and producer Midland. Alongside this will be resident Avalon Emerson, techno queen Nina Kraviz and an exclusive set from Hesse Audio Trio to name just a few.
Saturday will bring another mix of thunderous sets from techno's established legends and rising stars. They welcome back techno don Adam Beyer, joined by Underground Resistance founder, Robert Hood and Motor City's finest, Seth Troxler, who of course needs no introduction. Saturday's lineup will also witness live appearances from acid lovers 999999999 and the razor-edged Benjamin Damage plus arguably one of the most exciting names in modern techno, Amelie Lens.
Get ready for the most anticipated and eagerly awaited Junction 2 to date.
Junction 2 Reviews
Our visitors have reviewed Junction 2 47 times. Read reviews of this festival »
Average rating:
4.6/5
from 47 reviews
Junction 2 line up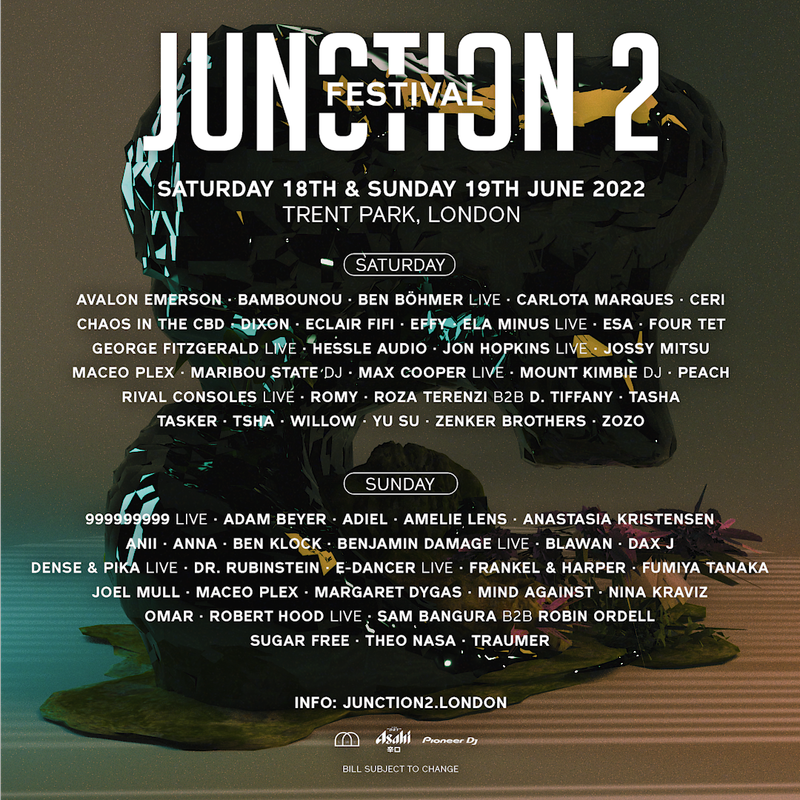 Junction 2 information & FAQs
What happens If I bought a ticket and cannot attend?
How do I get to Junction 2?
Do I need to print my ticket?
Does Junction 2 have onsite camping?
Does Junction 2 have any age restrictions?
Can I bring my own food and drink into Junction 2?
The history of Junction 2
Explore similar festivals to Junction 2
Find similar festivals by exploring the categories and classifications below:
Categories: Budget festivals, Dance Music festivals
Type: Music festivals
Size: Medium sized festivals
Amenities: Toilets