In our latest section, we will be focussing on some of the best experiences and attractions that you can find in the UK at the moment. From comedy nights to theatre shows, circuses' and more. There will be something here for everyone.
Summer is still here! So there are plenty of opportunities to get out with the family and explore somewhere new. Here are a bunch of brilliant lifestyle events that we have coming up on Skiddle. Click on the event names for tickets and more.
---
Horrible Histories: Barmy Britain pt 5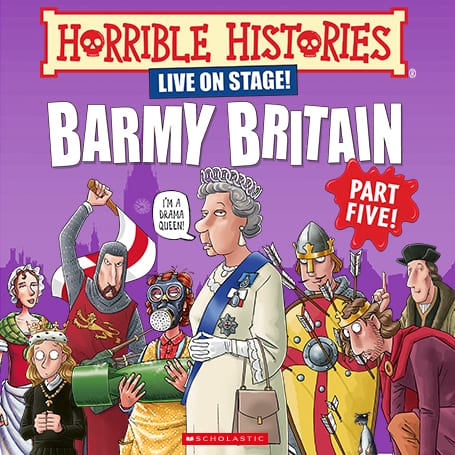 When: Daily August 4th- August 28th
Where: Apollo Shaftesbury Avenue, London
Horrible Histories has gone from iconic book series to a successful TV show and it has since made the jump over into theatre! This show is focussing on all things mad about British history, with an obvious emphasis on the grizzly and the gruesome.
With lots of crazy characters and recognisable figures from our past including William the Conqueror, King Henry VIII and even her royal highness the Queen. It's the country's favourite history show and one that is capable of making all ages laugh. A good time is guaranteed.
Find tickets for Horrible Histories: Barmy Britain pt 5 here.
-
---
Frankie Allen Live- Birmingham
When: Saturday 4th September
Where: The Hagley, Birmingham
Liverpool born and raised comedian Frankie Allen is going on a UK tour this year. With a career that spans over 25 years, Frankie is one of the most experienced comedians in the UK and this is your chance to see him run through his current material.
Plying his trade originally in working clubs in the North of England, his stock has risen and risen for years. Dubbed as 'Britain's most feared comedian', this is somebody who pulls no punching in his unflinching observational comedy. None of his shows are ever the same.
Find tickets for Frankie Allen Live in Birmingham here.
-
---
When: Saturday 18th- Sunday 19th September
Where: Uttoxeter Racecourse, Uttoxeter
This is a day packed full of family-friendly entertainment as you get to watch hot air balloons fly gently across the sky in all shapes and sizes. You'll be able to see them soar all day long and even as the sky turns to night.
This is a full day of activities however with arena entertainment, a giant funfair and circus acts all going on across the day too. The Saturday will also see a hugely impressive fireworks show take place which is well worth sticking around for. Pair this with a large selection of food and drink on offer and you've got yourself a great day out.
Find tickets for Staffordshire Balloon Fiesta here.
-
---
Drip and Forage Gin Masterclass
When: Friday 6th- Saturday 7th August
Where: Factory Floor, Sheffield
Who doesn't love a good alcoholic masterclass? At Factory Floor in Sheffield, you'll be treated to a gin masterclass. You'll receive a welcoming drink of strawberry and hibiscus dripped Bulldog Gin paired with Fever-Tree Mediterranean tonic.
Then each stage of Drip-Infusion technique will be showed to you, including how each piece of apparatus works. You'll then be taken to meet Luke Ellis who will show you a guided tour of his bioponics farm and letting you sample a micro herb to garnish your final drink. You'll be learning and drinking at the same time.
Find tickets for Drip and Forage Gin Masterclass here.
-
---
When: Thursday 12th- Sunday 22nd August
Where: Circus Fields on A39, Bude
Circus Funtasia is going up and down the UK this year and in August they'll be spending most of the month in Bude circus grounds. This is a special kind of circus that isn't just for the kids, there's a spectacle here for all to enjoy.
There'll be some amazing feats from fire breathers to aerialists and the gripping wheel of death. With top tier comedy, a heavy supply of popcorn and an endless amount of activities and shows, Circus Funtasia is not one to be missed.
Find tickets for Circus Funtasia here.
-
---
When: Friday 20th August
Where: Forum, Birmingham
One of Bingo Lingo's residencies is in Birmingham, so be sure not to miss what is one of the best nights entertainment you can get in the UK. They've been going for over five years now and bring the party to ravers, festival-goers and corporate parties alike.
What you can expect from these nights is not simply a game of bingo but one that provides plenty of alcohol, on stage shenanigans and some audience participation too. Prizes range from small jokes to life-changing gifts, it's an absolutely unpredictable night out.
Find tickets for Bingo Lingo Birmingham here.
-
---
Luisa Omielan: God is a woman- Bristol
When: Monday 18th October
Where: Redgrave Theatre, Bristol
Luisa Omielan's God is a Woman tour has been getting rave reviews this year and she's even performed it at festivals such as latitude. She's tackled politics, gender and now will be setting her sights on religion on this latest tour.
Known as a performer who is capable of being thought-provoking and downright silly, her comedy sets are a big laugh all around. With huge fans in Dawn French, Lenny Henry and Richard Curtis she was even given a BAFTA Breakthrough award. If that doesn't persuade you, she's also bringing her dog Bernie along too.
Find tickets for Luisa Omielan: God is a Woman in Bristol here.
-
---
Joseph and the Amazing Technicolour Dreamcoat
When: Monday 30th August
Where: London Palladium
Joseph and the Amazing Technicolour Dreamcoat is an iconic theatre show that has had huge longevity. The Andrew Lloyd Webber theatre show has a huge amount of fans who have been for repeat viewings. So whether you're looking for a new show or enjoyed the production previously, get down to London Palladium.
A multi-award-winning show, the story is told through song by The Narrator as you follow Jacob's favourite son Joseph who is sold into slavery but later finds out he has an ability to interpret dreams. It's a classic story that surely shouldn't be missed.
Find tickets for Joseph and the Amazing Technicolour Dreamcoat here.
-
---
When: Sunday 31st July 2022
Where: Hudson's Field, Salisbury
Salisbury's first-ever comedy festival is coming next summer and it features some of the most recognisable faces from comedy panel shows. Headlined by Dara O'Briain and featuring other names such as Angela Barnes and the always uncompromising Frankie Boyle who might just bring his most volatile material.
The festival is for a good cause too with funds being raised for Salisbury Hospital Stars Appeal. Not only is their comedy on but a whole range of entertainment including a funfair. There's also plenty of food and drink to go around too.
Find tickets for the Salisbury Comedy festival here.
-
---
When: Sunday 5th September
Where: Williamson Park, Lancaster
Highest Point Festival is bringing you The Big Family Day Out this year. Set on the same day that is the close of Highest Point, the Sunday, this is a day full of activities for the whole family to enjoy.
With plenty of interactive events from DJs, to storytelling, arts, crafts and face painting. The main stage will also be taken up by some memorable faces from the TV so be sure not to miss them!
Find tickets for The Big Family Day Out here.
-
---
Are you looking for more to do this summer? Then take a look at our Things To Do page. If you want to see what's going on in your local area then check out our What's On Guide.
---
---