We're back with even more amazing lifestyle events that are on Skiddle this week. If you fancy the theatre then you'll be spoilt for choice with this one but we have so much more from boxing to comedy and some delightful food and drink. Click on the event titles to learn more about them and get yourself booked on.
When: Saturday 2nd October
Where: AO Arena, Manchester
This is going to be one of the biggest nights at the AO Arena this year as a bunch of famous people are going to be punching each other for our entertainment. All of the celebrities have been training rigorously in preparation as they don't want to be going out in the first round. Hosted by Chris Kamara and Michael Buffer, this is going to be a memorable night.
Find tickets for Boxstar Celebrity Boxing here.
-
---
When: Monday 3rd January 2022
Where: The Garrick Theatre, London
This theatre production features the iconic queen of soul Beverley Knight takes the lead role in a brand new musical. It follows the story of The Drifters, one of the world's greatest vocal groups and the woman who made them. Following the highs and lows, personal tragedies and hit songs it is a roller coaster ride through a remarkable story that you cannot miss.
Find tickets for The Drifters Girl here.
-
---
When: Sunday 26th December
Where: Lyric Hammersmith, London
Aladdin is a classic tale and a beloved Disney movie that is still watched by children today. So come and join genie and friends at this pantomime performance that takes place on Boxing day. With a lyrical twist on each character, there will be live music, magic lamps and plenty of laughs to be had. Maybe your festive wishes will come true.
Find tickets for Aladdin here.
-
---
When: Sunday 10th October
Where: Southport Comedy Festival, Victoria Park
Russell Kane has been making entire rooms burt into hysterics for years now. He's recently gained even more acclaim through his Evil Genius podcast that has been featured on BBC Sounds. He's appeared on a whole host of shows from The Apprentice You're Fired to The One Show and Live at the Apollo. If you follow his social media you can even get a glimpse into his 'Kaneing' material.
Find tickets for Russell Kane here.
-
---
When: Friday 3rd September
Where: Astley Park, Chorley
Come down to Astley Park to enjoy an iconic and unforgettable opera experience. Follow a group of struggling friends as they try to navigate the various highs and lows that life throws at them. Bringing the opera to an unusual location, prepare to be dazzled by this performance from the middle of the park.
Find tickets for La Boheme here.
-
---
When: Sunday 31st October
Where: Filton Airfield, Bristol
It won't be too long now until Halloween fever grips us once again and what better way to celebrate spooky season than to watch a scary movie. Even better you can watch it on a huge screen at Filton Airfield where you can drive-in and they promise that they'll be going that extra mile to bring the film to life so keep your eyes peeled.
Find tickets for Scream here.
-
---
When: Sunday 29th August
Where: Coventry Cathedral, Coventry
Coventry Cathedral has been transformed into a place for eating drinking and conversation. Feel free to bring some friends and family down for some fine street food. Open until late, you can enjoy sitting amongst this picturesque setting. With staggered arrival times and plenty of spacing the dining club feels incedibly safe and you can enjoy a friendly atmosphere throughout.
Find tickets for Coventry Dining Club here.
-
---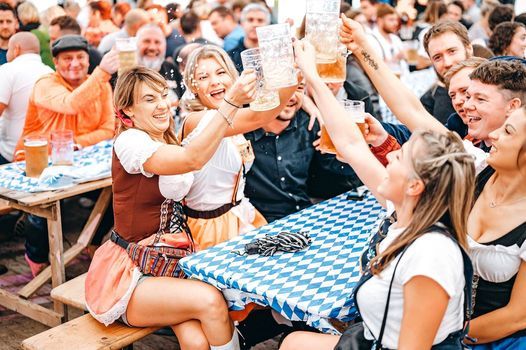 Image Credit: Oktoberfest Wolverhampton
When: Friday 15th- Saturday 16th October
Where: The Hangar, Wolverhampton
There surely isn't a better excuse to have a laugh than when Oktoberfest comes around each year. So get that lederhosen and get a few steins down you in this celebration of alcohol and good times. It should probably come with a few days off work afterwards. At The Hangar in Wolverhampton, you'll be entertained by oompah bands, DJs and other entertainers.
Find tickets for Oktoberfest here.
-
---
When: Monday 30th August
Where: Entry Bar, Liverpool
Come down to Entry Bar in Liverpool for this special screening of two of Monty Python's most iconic movies, The Life of Brian and The Holy Grail. They will even have some specially themed cocktails being made up for the event. These are two of the funniest movies ever made in British cinema, expect to be laughing quite loudly.
Find tickets for Monty Python Double Bill here.
-
---
When: Wednesday 1st September
Where: Theatre Royal Haymarket
Heathers is currently enjoying a 12-week residency at Theatre Royal Haymarket and luckily you can still catch some shows. Follow Veronica Sawyer at Westerberg High as she joins the Heathers and may finally achieve popularity but has she gotten in way over her head?
Find tickets for Heathers the Musical here.
-
---
If you're looking for even more to do this year then check out our Thing's To Do page. If you're looking for a music festival then take a look at our Festival Finder.
---
---