This week on Days Out With Skiddle we're looking forward to 2023 and we have some huge events which will get you excited for next year. There's comedy from Rhys James and one of the biggest tattoo events in the whole country. We're also keeping an eye on Christmas too, with plenty for you to get stuck into over the festive period.
Click on the event titles below for more information.
House of Stand up Coulsdon Comedy
When: Thursday 15th December
Where: Couldson Club, Couldson
House of Stand Up are bringing in a huge name to headline this Christmas show in Coulsdon. They're bringing Zoe Lyons to the venue, one of the most unique British comedians around at the moment. She'll have a great supporting cast too who will put plenty of smiles on your face just before Christmas.
---
House of Stand Up Caterham Comedy Xmas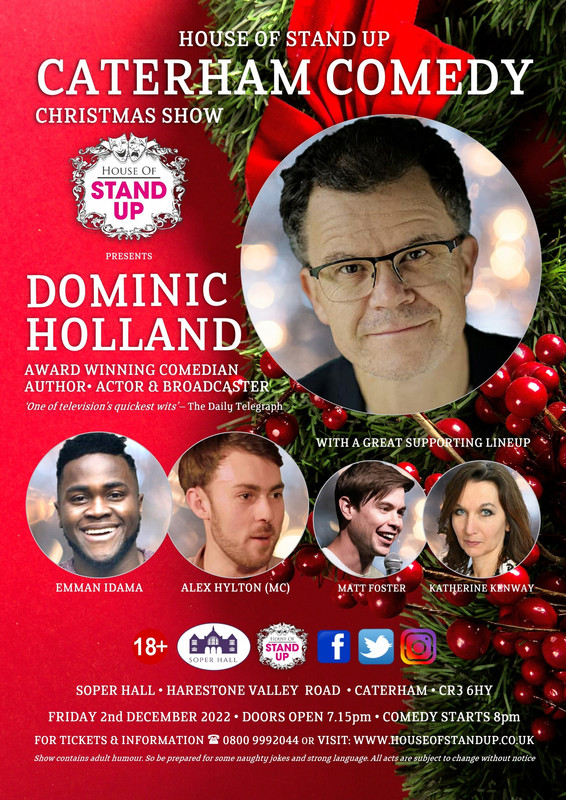 When: Friday 2nd December
Where: Soper Hall, Caterham
Another event from House of Stand Up, this time over in Caterham they're having a Christmas bash too. Dominic Holland will be the star of this one and he's a seasoned comedy veteran. He has won all kinds of awards and you'll see him bring out some fantastic material here.
---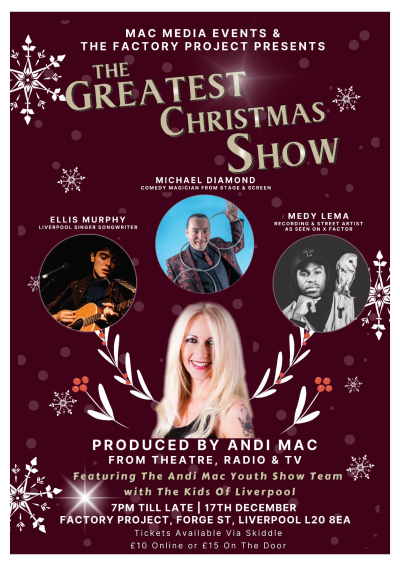 When: Saturday 17th December
Where: The Factory Project, Liverpool
This is a night that aims to bring you and the family moments of festive magic. The cast includes magicians, singers and songwriters who have come together to capture the spirit of the season. You will be spellbound by magic tricks and moved by the wonderful musical talent on display.
---
When: Wednesday 23rd November 2022- Friday 17th February 2023
Where: Theatre Royal Drury Lane, London
Frozen quickly became one of Disney's most beloved stories and it makes for the perfect winter viewing. The story has been adapted into a theatre show which has become just as loved as the source material. Follow Elsa and Anna and be blow away by the talent of these actors.
---
Alun Cochrane: Stuff and Nonsense
When: Sunday 27th November
Where: Frog and Bucket Comedy Club, Manchester
There's always a revolving door of amazing comedic talents coming to Manchester's Frog and Bucket Comedy Club and this time it'll be the turn of Alun Cochrane. He has appeared on numerous TV shows such as Mock The Week and he'll be going through his stand up routine here as well as picking on the crowd.
Ticket waiting list for Alun Cochrane: Stuff and Nonsense
Tickets you want not available? We know it's frustrating, but don't worry we've got your back. Join the waiting list below and we'll reserve you tickets if they become available.
---
When: Wednesday 21st November
Where: Temple Arches, Leeds
Leeds' Chow Down is a place where food, drink and music combine. They have a winter village on at the moment and one of their musical guests will be Graeme Park. This means that once you've had as much food as you can, you can head get up and dance to some iconic house music tunes,
---
When: Saturday 29th- Sunday 30th April 2023
Where: Utilita Arena, Newcastle Upon Tyne
The Big North Tattoo Show returns in 2023 and it is the place to go for all things inked. Watch some of the best tattoo artists from across the world convene in one place and even get one done yourself. Browse a wide range of brilliant designs that will be art on your skin.
---
Clifton Observatory- Santas Grotto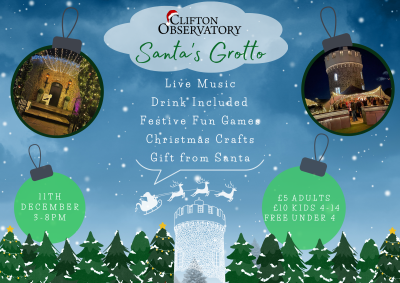 When: Sunday 11th December
Where: Clifton Observatory, Bristol
Santas Grotto's are popping up all over the place and you can bring the family to Clifton Observatory where a drink will be included in the ticket price. Even better, there will be live music, festive games to play, Christmas crafts and of course, a gift from Santa himself for your young one.
---
When: Thursday 11th May 2023
Where: The Leadmill, Sheffield
Rhys James is one of the most popular comedians around at the moment after all of his antics on TV. He has been one of the most popular regular panellists on Mock The Week and he'll surely be going on to bigger things in the future. For now, you can enjoy his latest stand up comedy tour.
---
---
Check out our What's On Guide to discover even more rowdy raves and sweaty gigs taking place over the coming weeks and months. For festivals, lifestyle events and more, head on over to our Things To Do page or be inspired by the event selections on our Inspire Me page.