Do our eyes and ears deceive us? Are we actually opening up again? Is normality coming home (because the football sadly didn't) or is this just another villainous move from the stiffs who occupy the distastefully decorated offices of Downing Street? Nope, this is not a drill, repeat, NOT a drill...
We can now officially, 100% confirm that as of Monday 19th July 2021, all remaining COVID restrictions across England will indeed be removed, with the governing bodies of the remaining home nations set to follow suit in the days and weeks to follow. 'But what does that mean for us', we hear you ask...
It means no more legal obligation to wear face coverings, although we highly recommend wearing them in crowded places to help prevent further outbreaks. It means the return of music festivals and mass events after eighteen drawn-out months, the return of theatres and live productions, and the reinstatement of our dearly missed music venues and clubs (Find out what other rules are set to change on Monday 19th July - here).
Finally! Some normality! Just in time to see out the latter half of the summer. And what better way to welcome back our world-leading hospitality and entertainment sectors than with a long list of first-class raves and parties, happening across the country on Freedom Day - Take two.
From the North, throughout the Midlands and across the South of England, there's a wide selection of liberty renewing events on offer, featuring some of Britain's best party brands, collectives and artists.
Fancy experiencing one of these events? Do you want to be a part of a moment in time that's set to be documented in the archives? One that will be spoken of for generations and generations to come... then look no further.
Below, you'll find a comprehensive list of top events and parties happening from Monday 19th July 2021 onwards, with tickets now on sale. Just click or tap on the highlighted links below to secure your place in history and to be able to say 'I was there...'
Cirque Du Soul Nottingham - The First Dance
When: Monday 19th July 2021
Where: Rock City in Nottingham
After selling out their first non-socially distanced show of 2021 just a few weeks ago, the fervent team bringing the magic of Cirque Du Soul to Nottingham's Rock City have announced yet another huge date to properly celebrate the return of more normality.
Opening the doors of the venue at one minute past midnight on Monday 19th July, punters can expect an outrageous party through the early hours, raving until the sunrises at 5 am, filled with the best soundtrack in disco, house and techno, as well as whacky decor, daring performers and all the extra special frills the brand has become adored for.
Find tickets for Cirque Du Soul Nottingham - The First Dance - here
-
---
When: Monday 19th July 2021
Where: Beaver Works in Leeds
Take a trip down the rabbit hole on the dawn of the return to normality, and jump headfirst into a world of the surreal. That's right, Return to Wonderland at Leeds' venue, the Beaver Works is back for another outlandish and madcap party.
Boasting nine different areas of off-kilter fun, brimming with a broad host of live musical acts, including bands, DJs and MCs, walkabout performers, fairground rides, huge sound systems and even a midnight bonfire and firework display - this is one off-the-wall party you simply can't afford to miss!
Artists appearing across the six-hour event include the likes of Mollie Collins, The Prototypes, Miguel Campbell, Kenny Ken and more...
Find tickets for Return To Wonderland - here
-
---
The Freedom Rave at Fabric London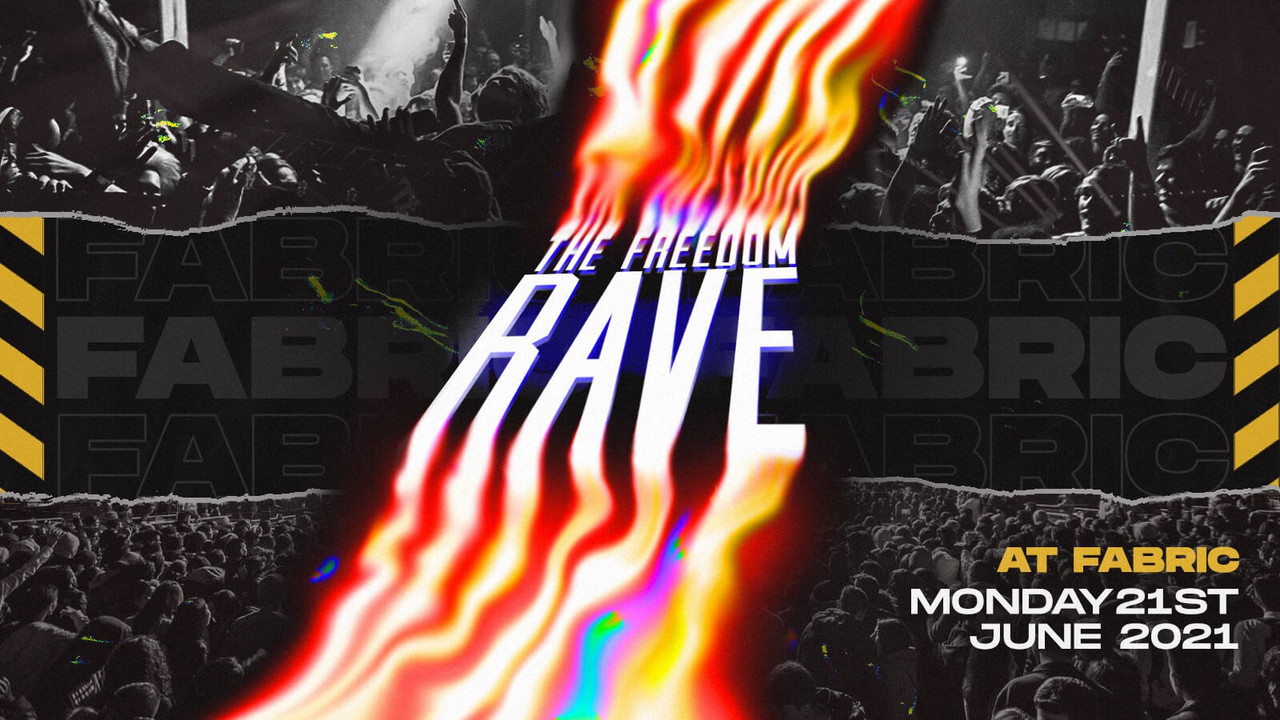 When: Monday 19th July 2021
Where: Fabric in London
Hosting one of the biggest parties in the English capital on Monday 19th July, London nightclub Fabric will welcome up to one thousand five hundred avid ravers onto its unusually quiet dance floors once more.
Get ready to feel the force of the clubs hefty in-house sound system, the massive CO2 and confetti cannons, the crazy light and laser shows and much, much more.
Offering two arenas of live music, covering everything from hip hop, grime and RnB, to trap, EDM and house music, there's bound to be a set across the five-hour gathering that will have you up and raving.
Find tickets for The Freedom Rave at Fabric London - here
-
---
LEVELZ LOCKDOWN LIFTOFF - Rearranged
When: Monday 19th July 2021
Where: Mint Lounge in Manchester
Made-in-Manchester collective, LEVELZ are back at it, bringing the heat to the city's Northern Quarter to honour the easing of all remaining restrictions and the return of clubs on Monday 19th July.
The fourteen strong team, built up of artists, producers and event promoters, including well-known names the likes of Dub Phizix, Chimpo, Biome and Black Josh, are said to have a massive post-lockdown party planned, with next-level (see what we did there?) music coming from a handful of the outfit's members.
Based in the North of England? Don't miss this riot of a show.
Find tickets for LEVELZ LOCKDOWN LIFTOFF - Rearranged - here
-
---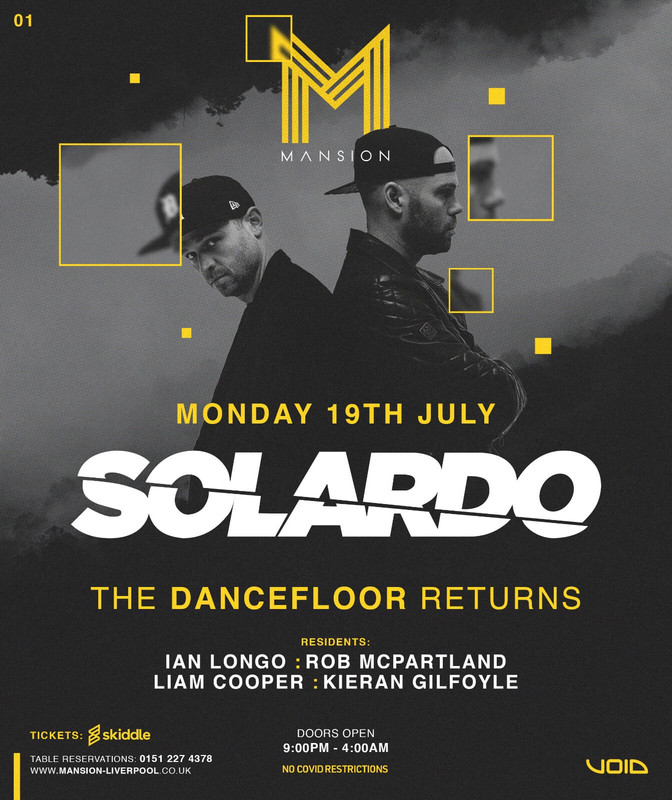 When: Monday 19th July 2021
Where: Mansion in Liverpool
Manchester party-starters, label owners and DJ dons, Mark Richards and James Eliot AKA Solardo are preparing to metaphorically take the roof off of Liverpool's best VIP nightclub, Mansion on the first evening without COVID restrictions for over a year.
Returning to the dancefloor, the pair will have those present in the palm of their hands from start to finish, dropping huge club tracks, the likes of which are soon to be heard ringing out around the megaclubs of the White Isles once again, such as 'Free Your Body', 'Keep Pushing', 'XTC' and more.
Doors will open at 9 pm, with resident club DJs Ian Longo, Rob McPartland, Liam Cooper and Kieran Gilfoyle warming up the ones and twos for the internationally loved house duo.
Find tickets for Solardo at Mansion - here
-
---
Bou Ft MC Haribo and Corrupt live in Sheffield
When: Monday 19th July 2021
Where: Tank Nightclub in Sheffield
One of the biggest names to break out of the underground drum n bass scene in recent times, talented producer and energetic entertainer, Bou will head over the Lancashire county line and into Yorkshire for a special restriction easing party on the 19th of July.
The multi-award-winning DJ/producer, whose tracks have had bass heads and junglists alike losing their minds on dancefloors for the past few years, has quickly become one of the most recognised names and faces on the scene, garnering support from huge names the likes of Tiesto, Shy FX, Andy C...
Catch him alongside MC Haribo and Corrupt on Monday 19th July, performing some of his biggest, earthmoving, drum n bass tracks - from 'Streetside' to 'Cous Cous' featuring Inja and more.
Find tickets for Bou Ft MC Haribo and Corrupt live in Sheffield - here
-
---
RUNNIN' RED presents MASON MAYNARD & more - Summer Rooftop Party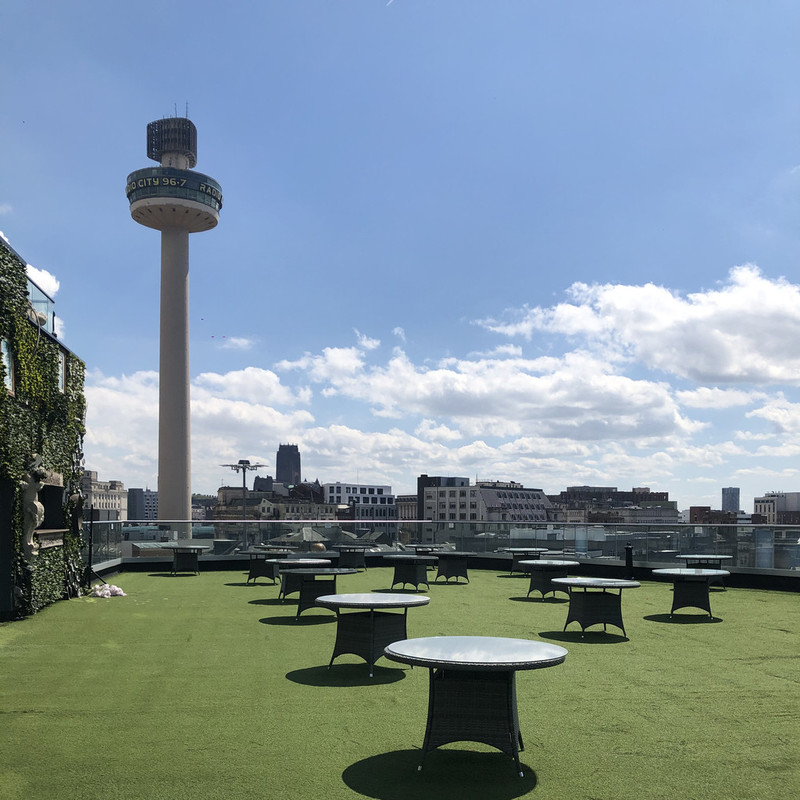 When: Monday 19th July 2021
Where: Shankly Hotel in Liverpool
Liverpool event promoters Runnin' Red have announced their plans to host a special rooftop party in the centre of the city, to celebrate the return of non-socially distanced partying and the remaining summer season of live music.
Taking place at the Shankly Hotel - a luxurious guest house filled with memorabilia honouring one of football's greatest managers, Bill Shankly - the skyline straddling sunset party will see Manchester-based DJ and producer, Mason Maynard supplying his customary groovy sound to all those present.
Expect nothing but good vibes, great views and a first-class soundtrack throughout.
Find tickets for RUNNIN' RED presents MASON MAYNARD & more - here
-
---
When: Monday 19th July 2021
Where: 24 Kitchen Street in Liverpool
Rescheduled from Monday 21st June, the first date postponed date in the government's roadmap out of lockdown, 24 Kitchen Street's first dancefloor event of the Year is now set to occur from late-night Monday 19th July and into the small hours of Tuesday 20th July.
Part one of two opening parties set to take place at the familiar venue over the coming days, the event promises to be one of its wildest yet. One we've been especially eager to attend and one we're likely never to forget!
For fans of acid house, house, jungle and techno - a must-attend event.
Find tickets for Return To Rave 1 - here
-
---
Lost Day Party: Return Of The Rave: Monday 19th July
When: Monday 19th July 2021
Where: Camp And Furnace in Liverpool
Trusted party-throwing specialists, LOST UK will host a very special 'Return of the Rave' all-out party at Liverpool venue, Camp and Furnace on Freedom Day number two.
Filling the venue to capacity once more, cranking up the gigawatts and having it like its 2019, the team behind the recognised dance brand are guaranteeing an evening absolutely worthy of marking the return of our long-absent liberties.
Join LOST's skilful resident selectors serving up an energetic and customary blend of house, techno and disco, through the venue's brand spanking new sound rig, on Monday 19th July and welcome back non-socially distanced partying in style!
Find tickets for Lost Day Party: Return Of The Rave - here
-
---
When: Monday 19th July 2021
Where: The Old Red Bus Station in Leeds
Where can you find an unrestricted party consisting of thirty DJs, across three massive rooms, covering all matters of dance genres and BPMs, with tickets costing just a fiver? Why the Old Red Bus Station in Leeds, of course.
Yes, yes, oh yay - Ol' reliable is back, boasting a plethora of storming sets from a number of local talents. Get ready to dance and sweat on the dancefloor for twelve long hours - from 4 pm until 4 am on Tuesday 20th July. Embrace complete strangers and your nearest and dearest inside a club for the first in what feels like forever, on Monday 19th July at The Old Red reunion.
Find tickets for The Old Red Reunion - here
-
---
Opening Night at The Kasbah, Coventry
When: Monday 19th July 2021
Where: Kasbah in Coventry
Coventry's premier nightclub and live music venue, the Kasbah is 100% officially back in business as of the 19th of July!
Set to provide the people of the midlands with a mega 'welcome back' shindig, the clubs' reopening party will consist of a soundtrack laced with the best and cheesiest pop bangers and club classics. Join hundreds of eager partygoers under the lasers and lights, on the dancefloor of this much-loved venue, for a night of musical guilty pleasures.
Find tickets for Opening Night at The Kasbah - here
-
---
Back To Life - Ministry of Sound - First Night Out of 2021
When: Monday 19th July 2021
Where: Ministry Of Sound in London
Dance event connoisseurs, BPM London and Back To Life will take over the iconic Ministry of Sound venue in London for the first proper night out of 2021 on Monday 19th July!
Commemorating the day we've all been patiently waiting for, the six-hour, straight through no brew occasion promises to be 'the biggest party in town'. One that will help us to never forget the days when we couldn't rave.
Expect four arenas of music, an arsenal of lasers and Co2 cannons, an exclusive VIP lounge, the worlds largest and most overwhelming sound system, and, most importantly, NOT ONE COVID RESTRICTION.
A number of special guest performers have yet to be announced for this upcoming show. Watch this space for more details as they come...
Find tickets for Back To Life - Ministry of Sound - here
-
---
Hidden: The Reopening Part Two
When: Tuesday 20th July 2021
Where: Hidden in Manchester
Following the first of five soon to be sold-out opening parties, Manchester nightclub Hidden presents The Reopening, Part Two.
Closed for the most part of the past year, the popular Manchester nightclub will finally get the chance to reintroduce the city's hungry dance-loving contingent to its many fantastic rave spaces and dancefloors again this July.
Techno aficionado, Bugs Groove is the only man on the bill thus far, supplying a night of weighty beats, weird synths and uptempo fist-pumping bangers. More names expected to be announced imminently. Keep 'em peeled!
Find tickets for Hidden: The Reopening Part Two - here
-
---
Gravity/Born on the Road w/ Bladerunner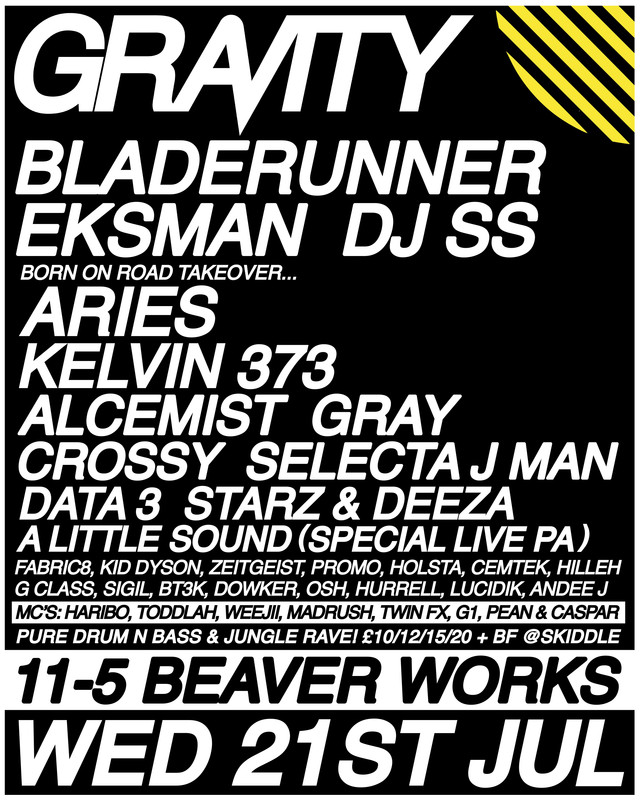 When: Wednesday 21st July 2021
Where: Beaver Works in Leeds
Bristol-based drum n bass label and DJ collective, Born on The Road takeover one of Yorkshire's best warehouse venues, the Beaver Works for a special evening of heavy bass music, under the Gravity party banner.
The new date, rescheduled from Monday 21st June to Monday 19th July, will witness a number of the genres most established and emerging names taking to the helm, leading punters on a musical journey through the very best in drum n bass, jungle and more.
Catch the likes of Bladerunner, Eksman, Alcemist, Gray, Toddlah, BT3K, Starz & Deeza, Aries and a whole load more live on stage on Wednesday 21st July.
Find tickets for Gravity/Born on the Road w/ Bladerunner - here
-
---
When: Wednesday 21st July 2021
Where: The Leadmill in Sheffield
Sheffield-based, British-Latino events collective, La Rumba are back for their first party in sixteen months!
Returning to one of the Northern city's best music venues, The Leadmill, the experienced team behind the brand will kick-start their dancefloor-filling campaign on Wednesday 21st July, promising the best mid-week party this side of the summer season.
Join some of Sheffield's finest sound system outfits and selectors, the likes of Fortythree and Apricot Ballroom Soundsystem, featuring Joi La Frique and Nonna Fab, for a night full of the finest cuts from genres such as house, disco, jazz, funk, soul, afrobeat and more...
Find tickets for La Rumba: The Relaunch - here
-
---
---
For more restriction-free, non socially distanced events (still feels weird to say) happening where you, check out our What's On Page or our Things To Do Page