The countdown to 'Freedom Day' - attempt number two - is now well underway, with just over a fortnight left to go before clubs, music venues and theatres throw open their doors once more, welcoming us all for some good old fashioned non socially distanced partying!
Oh yes, it won't be long until we're all together on the dancefloor, hands in the air, raving hard, having it large. Epic scenes similar to the ones in the video below, captured in a time before COVID (sounds strange to say), are now just over the horizon.
And what's more, some further positive news from the suits in the House's of Parliament, it looks as those us revellers will be able to gain entry to gigs and so forth, without the need to produce evidence of a negative COVID test or proof of vaccination.
So, it kind of goes without saying, now is the time to start planning for the big release. It's time to assemble the partygoing collective, the squad, the clan. It's time to get those tickets for those rescheduled events you've been waiting to come around. It's time to get excited. We most certainly are.
Take a browse at some of the many events that have been added to Skiddle this week below, and secure yourself tickets to an event that you're likely never to forget.
(Click or tap on the event titles and artist names for tickets and more)
When: Tuesday 7th December 2021
Where: Corn Exchange Edinburgh in Edinburgh
Dynamic dance duo Andy Ferguson and Matt McBriar AKA Bicep will bring their euphoric live show to Edinburgh for a very special one-off date this December.
Born in Belfast, now based in London, the pair quickly became one of the most talked-about dance acts on the planet following the release of their widely acclaimed self-titled debut back in 2017. Subsequent follow-up, Isles, released in January this year, also caught the attention of critics and dance fans worldwide, and showcases more of the production skill and talent for which they are now globally renowned.
Be sure to catch Bicep's mind-blowing set at Edinburgh's award-winning Corn Exchange live music venue, and see the year out the right way.
Find tickets for Bicep live in Edinburgh - here
-
---
Ministry of Sound 30th birthday - Part one, two and three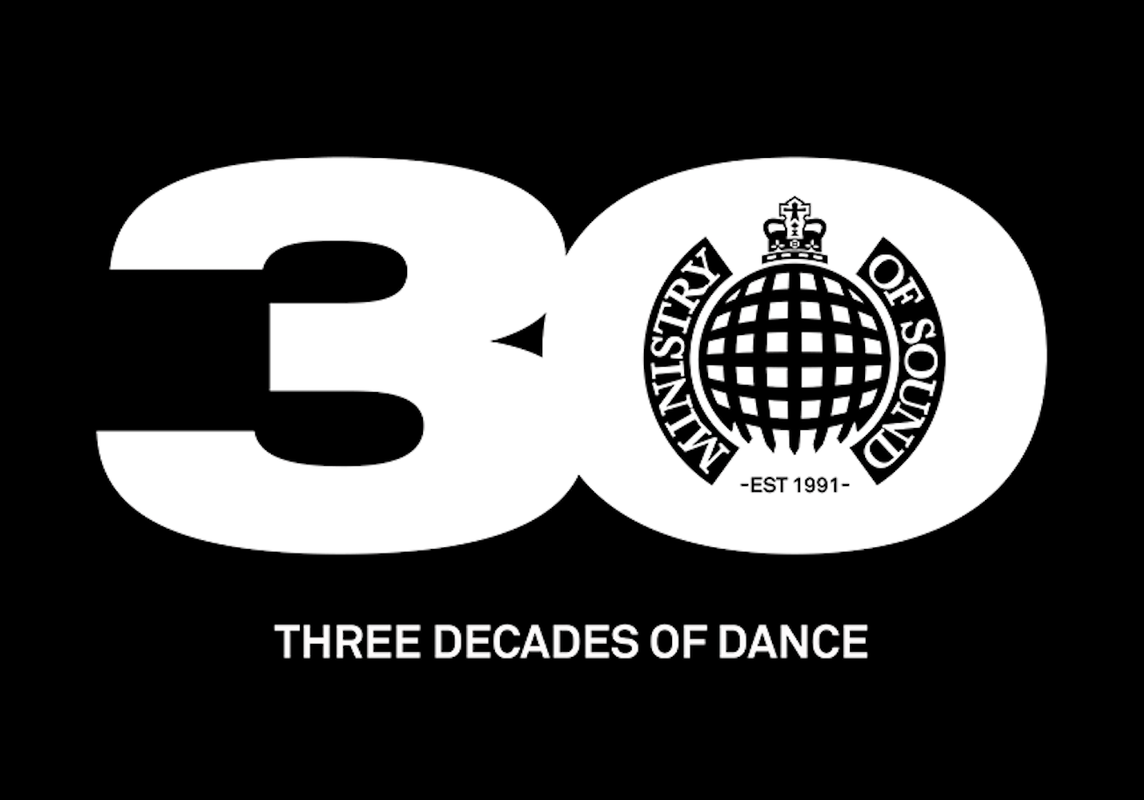 When: Friday 17th - Saturday 18th September 2021
Where: Ministry Of Sound in London
The worlds biggest and most recognisable dance brand, Ministry of Sound has announced its plans to commemorate a significant milestone in its history over the course of one weekend this September.
Marking thirty incredible years in dance music, the team behind the multi-faceted business will throw not one, not two, but three huge parties celebrating the music of each of the three decades the brand has endured.
The lineup for all three of the upcoming events has yet to be announced, but you can be sure it's going to be one that's hard to top. Watch this space for more details as they come.
Find tickets for Ministry of Sound 30th birthday parties - here
-
---
Toolroom London - Ministry of Sound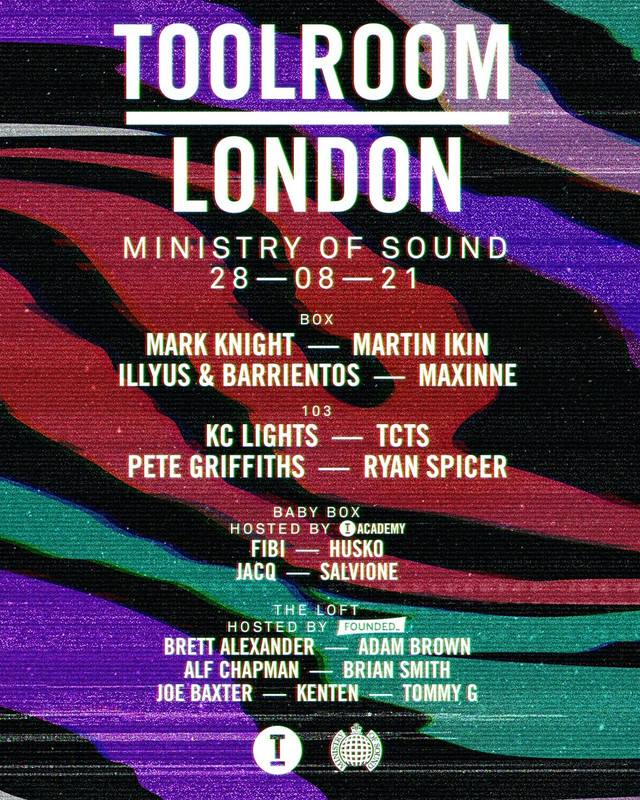 When: Saturday 28th August 2021
Where: Ministry Of Sound in London
Mark Knight's seminal Toolroom imprint will take over London's Ministry of Sound nightclub for a late night/early morning session this August, with a host of impressive roster names providing a soundtrack chock full of the most current and exemplary club tracks.
Being promoted as an 'all-out family affair', the eight-hour event, which runs from 10 pm through to sunrise at 6 am on Sunday 29th August, will see world-class performances from the likes of KC Lights, Ryan Spicer, Illyus and Barrientos, head honcho Mark Knight and many more.
For fans of deep house, house and tech-house - this is one you do not want to miss.
Find tickets for Toolroom London at Ministry of Sound - here
-
---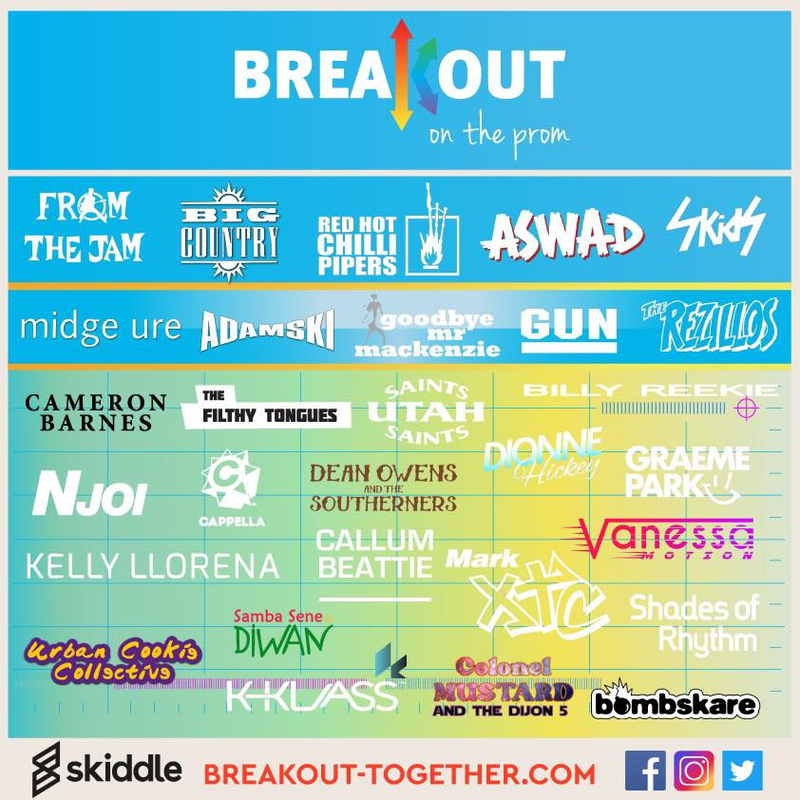 When: Friday 8th - Sunday 10th October 2021
Where: Esplanade Kirkcaldy KY1 in Kirkcaldy
Coming to Kirkcaldy, on the epic East Coast of Scotland, for the first time this year - Breakout Festival or Breakout On The Prom is set to welcome a lengthy list of well known and influential musical greats to perform to thousands of eager fans this autumn.
The open-air music event, which has been organised in support of the NHS, will see stand out performances from the likes of Big Country, Aswad and '80s hero Midge Ure, as well as dance legends Utah Saints and Graeme Park, and Scot favourites, Colonel Mustard and the Dijon Five and the Red Hot Chilli Pipers to name a few.
Find tickets for Breakout Festival - here
-
---
Mykki Blanco live in Liverpool
When: Saturday 6th November 2021
Where: 24 Kitchen Street in Liverpool
Illustrious American rapper, poet and activist, Mykki Blanco will arrive at Liverpool's 24 Kitchen Street this November as part of a run of shows throughout the UK.
A pioneer of the queer rap sub-genre, taking early influence from the alter ego of rap star Lil Kim, Kimmy Blanco, Mykki has been pivotal in subverting what has long been a genre renowned for its outdated views and opinions on homophobia and transphobia, opening doors for talents that years earlier may never have been discovered.
Bringing together elements of trap, hip hop, rap, lo-fi pop and in some cases shoegaze, Blanco's work makes for a very interesting listen.
See for yourself what all the fuss is about in Liverpool this November.
Find tickets for Mykki Blanco live in Liverpool - here
-
---
UBER Presents: Solardo Halloween Special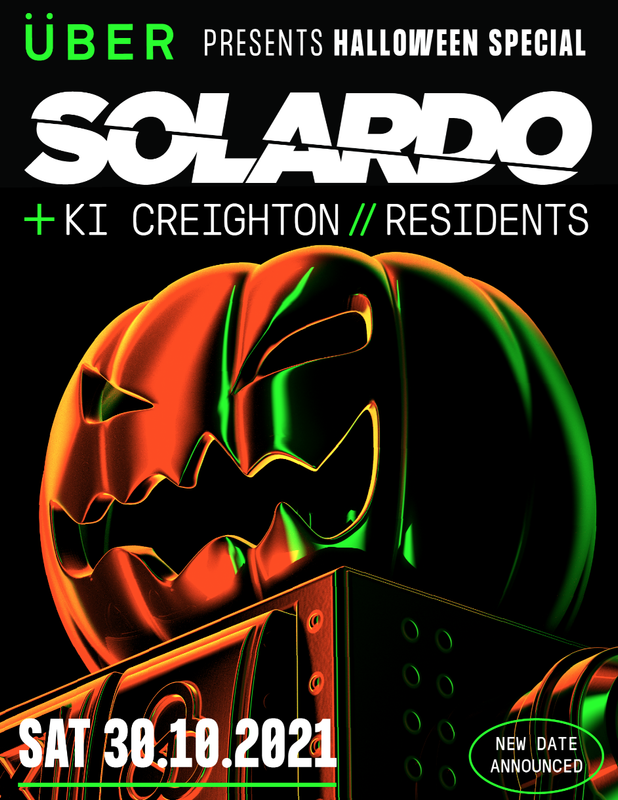 When: Saturday 30th October 2021
Where: The Venue in Carlisle, Cumbria
One of the hottest dance acts in the world, in-demand DJ and producer outfit, Solardo are preparing for an all-out Halloween spooktacular in Carlisle this October.
Brought to the house music contingent of England's most northern city by popular Carlisle club night brand UBER, the lively pair will provide the energy throughout the late-night event, spinning a selection of their biggest and best-loved bangers - including massive track 'Tribesman' which reached number one in the Beatport Charts.
Support on the night comes from rising house music star, Ki Creighton and a handful of UBER's resident DJs. Don't sleep on this one - tickets will sell out!
Find tickets for UBER Presents: Solardo Halloween Special - here
-
---
England v Ukraine - Euros on the rooftop at Hotel Football
When: Saturday 3rd July 2021
Where: Hotel Football Old Trafford in Manchester
After delivering ze Germans a two-nil defeat on Tuesday night (Auf Wiedersehen), the Lions march on and into the quarter-finals this Saturday with what's set to be yet another nail-biting game against Ukraine.
Most pubs and outdoor screening events across the UK are now fully booked, with punters eager to witness the weekend's historic proceedings. Who doesn't want to watch the lads getting one step closer to bringing football home?
If you're desperately scrambling to find somewhere to watch the game, we've got just the venue for you. Why not take in the excitement of the full 90 minutes from the rooftop of Manchester's Hotel Football right across from Manchester United's Old Trafford football ground.
Grab a table of six for you and your mates and watch the footy with a view over the city. Tickets also come with a free drink bucket and food is also available.
Find tickets for Euros on the rooftop at Hotel Football - here
-
---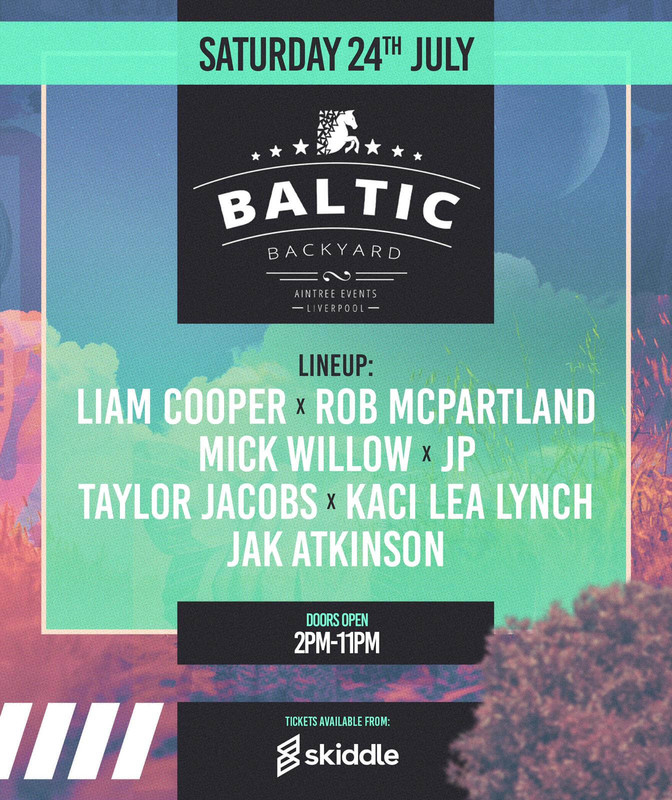 When: Saturday 24th July 2021
Where: Baltic Backyard in Liverpool
Celebrating the first weekend of non socially distanced partying, Liverpool's Baltic Backyard reopens to its full capacity on Saturday 24th July with a handful of local selectors primed and ready to soundtrack the return of good times.
Get ready to dance and embrace one another on the dancefloor once again, to the sounds of respected DJs Liam Cooper, Rob McPartland, Mick Willow, JP, Kaci Lea Lynch, Taylor Jacobs, Jak Atkinson, mixing the finest cuts of house, funky house and old skool club classics.
Find tickets for Baltic Backyard - here
-
---
Natalie McCool live in Liverpool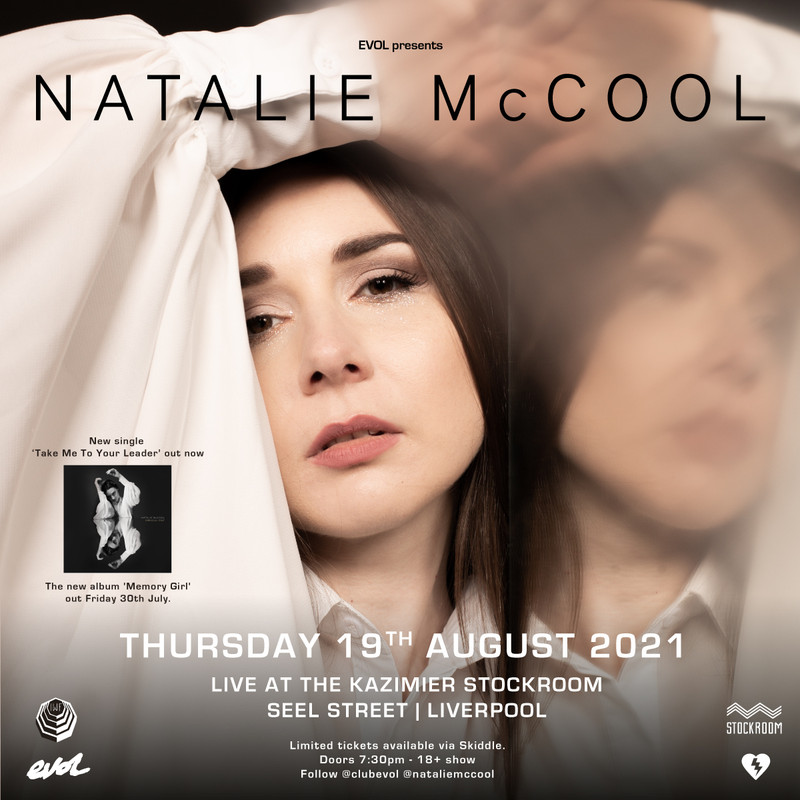 When: Thursday 19th August 2021
Where: Kazimier Stockroom in Liverpool
Singer-songwriter and multi-instrumentalist, Natalie McCool will perform tracks from her forthcoming album release Memory Girl, at a special album launch party at Liverpool's Kazimer live music venue, on Thursday 19th August.
A former winner of the Yamaha-sponsored national songwriting competition, judged by Chris Martin of Coldplay, McCool has been noted by many for her unique and beguiling take on pop music. A talented lyricist and mastered musician, she's known for her ability to beautifully capture and document the emotions which surround mature themes, such as loss and jealously.
Having spent much of the past eighteen months fine-tuning her already accomplished sound and recording her new release, she's now ready to get back in front of a limited audience in her own backyard.
Find tickets for Natalie McCool live in Liverpool - here
-
---
---
To find more gigs, raves and festivals happening where you are, head to our What's On page or try out our Festival Finder Tool