More and more fantastic theatre plays and musicals continue to land on our 'things to do' page every single week, as the outlook for 2021 becomes increasingly brighter and clearer - all with thanks to the outstanding efforts of our beloved NHS and continuation of the Coronavirus vaccine rollout.
We've skimmed through the long list of recently added, new shows - including some of the best musicals, award-winning book adaptations and spellbinding on-stage depictions - and hand-picked our top three 'must-see' productions that are due to take place throughout the year.
If you're a big fan of theatre and need something to plan and look forward to, may we suggest taking a glance at our prime selection of upcoming West End shows...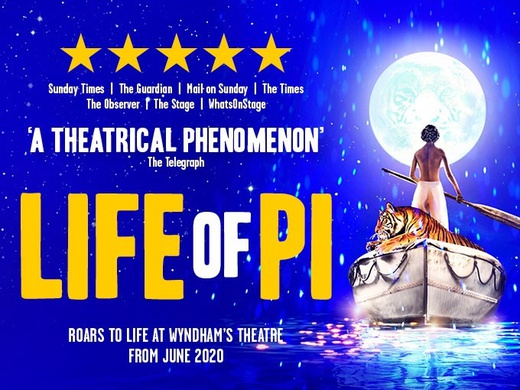 Running from: Sunday 26th September 2021 - Sunday 9th January 2022
Where: Wyndham's Theatre in London
Duration: 2 hours and 5 minutes including an interval
Experience the universally acclaimed, smash-hit theatre adaptation of one of the world's best-selling works of fiction - Life Of Pi, at London's Wyndham's Theatre this year.
Based on the Man Booker prize winning literary work of art, which has sold over fifteen million copies worldwide, this marvel of live theatre portrays the epic story of sixteen-year-old boy - Pi, who finds himself stranded on a lifeboat in the middle of the Pacific Ocean after the cargo ship he was a passenger upon sinks.
Isolated and battling the harsh nature of the sea, Pi discovers that he's not the only one sharing the bailout vessel. Joining him on this gripping, ocean crossing journey adventure are some rather peculiar sea mates - a hyena, a zebra, an orangutan and a Royal Bengal tiger.
This roaring production features world-class puppetry from some of the best puppeteers in the business, alongside breath-taking state-of-the-art visuals, and a sensational soundtrack. A feast for all the senses.
Find Tickets for Life of Pi here
-
The Ocean at the End of the Lane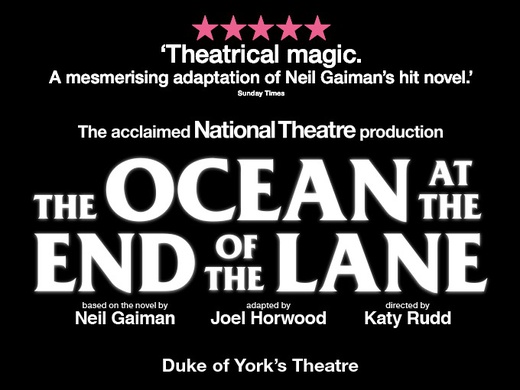 Running from: Tuesday 26th October 2021 - Saturday 12th February 2022
Where: Duke Of York's Theatre in London
Duration: 2 hours and 20 minutes including interval
From British playwright Joel Horwood and director Katy Rudd, comes this enchanting take on award-winning author and graphic novelist, Neil Gaiman's best-selling novel - The Ocean at the End of the Lane.
The story follows a man who returns to his childhood farmhouse home, in Sussex. Stood beside the pond where he used to play, he finds himself transported back to his 12th birthday, when his friend Lettie claimed that it wasn't actually pond at all, but an ocean…Plunged into a magical world, their survival depends on their ability to reckon with ancient forces that threaten to destroy everything around them.
This imaginative on-stage adventure, from the writer who brought us popular comic book series The Sandman, and novels Stardust, American Gods and Coraline, is a monster-powered, under water spectacular that takes storytelling to the next level.
Find Tickets for The ocean at the End of the Lane here
-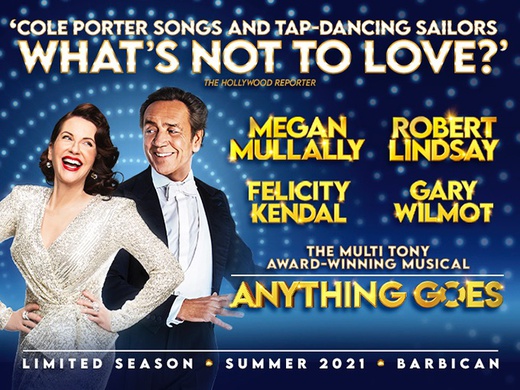 Running from: Saturday 8th May - Sunday 22nd August 2021
Where: Barbican Centre in London
Duration: 2 hours 30 minutes including interval
Join an all-star lineup, including sitcom legends Robert Lindsay of renowned British series - My Family, Megan Mullally of NBC sitcom Will & Grace, Felicity Kendal of The Good Life, and West End Legend Gary Wilmot, as they breathe new life into one of the stages most adored musical theatre shows - Anything Goes.
A splendid new production of Cole Porter and P. G. Wodehouse's masterpiece, the classic show features a host of theatres most memorable show tunes - from 'I Get A Kick Out of You' to 'You're the Top', 'It's De- Lovely!' and 'Anything Goes' - performed by a fifty-strong, full sized live orchestra.
A tale of two unlikely pairs who set sail on the SS American in the pursuit of true love, Anything Goes follows the shows four main characters over the course of their maritime adventure. Their journey proves that sometimes, even destiny needs a little help. Luckily, there's a crew of singing and tap dancing sailors on hand, to help move things along!
Expect comical disguises, farcical blackmail stunts and many delightful, double-entendres at this excellent West End production!
Find Tickets for Anything Goes here
-
Check out our extensive directory of musicals, plays and comedy shows, happening in theatres and venues across the UK in 2021 - here
Header image: Anything Goes / Ingresso