Photo: Stacey Pullen
Stacey Pullen is one of the second wave of artists to emerge from Detroit's techno scene, following founding fathers Derrick May, Kevin Saunderson and Juan Atkins. Pullen himself was mentored directly by Derrick May, who in the late 80s was resident DJ on Friday nights at Detroit's The Music Institute club, founded an alias as Rhythim Is Rhythim and also two record labels, Transmat and Fragile.
Pullen's relationship with Derrick May and The Music Institute began in 1989 when Stacey moved back to his hometown of Detroit after attending college. While away he was away he had fallen in love with house and techno and returned to the latter's birthplace eager to learn more.
After making some embryonic efforts at home he was advised by and guided through studio work by Derrick May and via looking over the shoulder of fellow Detroit producer Jay Denham, when Denham was working in Transmat Studios.
Pullen's first release, a sample based effort, came in 1992 on Transmat sublabel Fragile, but he would go on to record for KMS sublabel Serious Grooves, plus European labels R & S, Plink Plonk and Elypsia, before founding his own label Blackflag Recordings in 1997.
Shortly after his first release in 1992 he followed Derrick May to Amsterdam at May's request. He was supposed to stay for a month but ended up living there for a year and a half, gigging around Europe with May.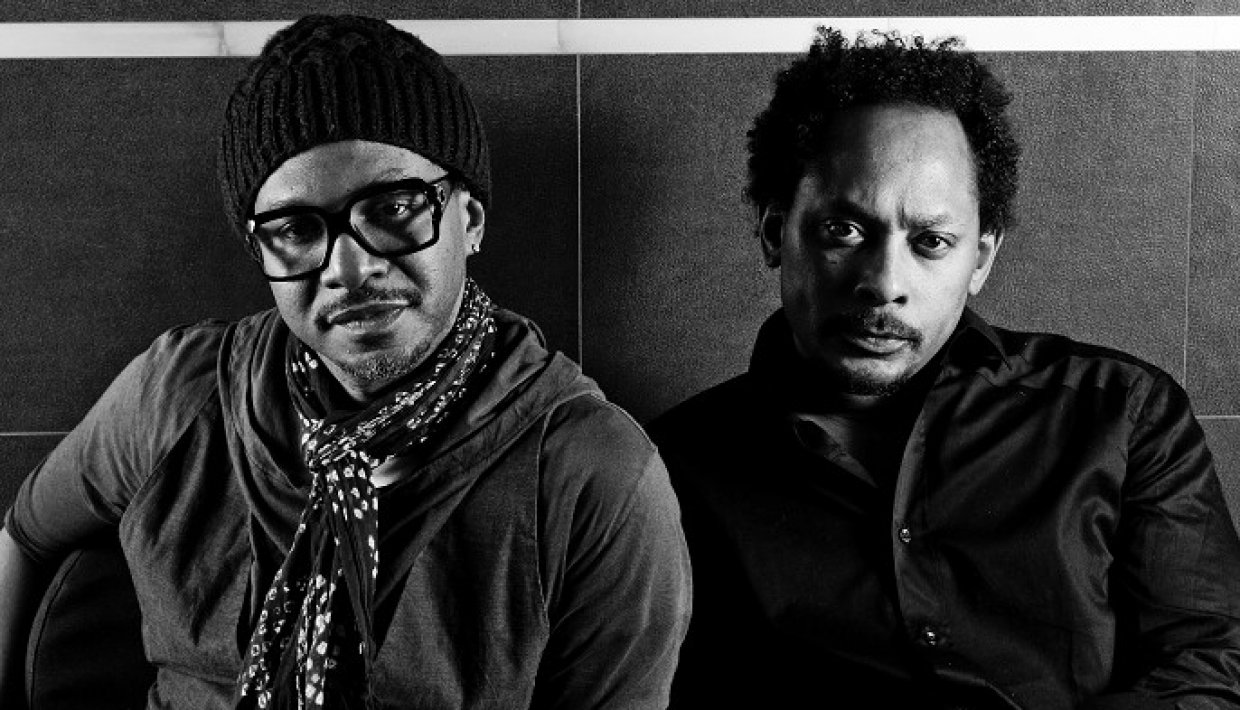 Photo: Stacey Pullen and Derrick May / Electronic Beats
After returning home to Detroit he continued to record music for a variety of labels including as Silent Phase on Transmat. After interest from Virgin Records he signed a deal with the label for his own material and that of his Blackflag Recordings, releasing the jazz influenced album Todayisthetomorrowyouwerepromisedyesterday on Virgin sublabel Science in 2002.
His deal with Virgin didn't go to plan and this kept many new Stacey Pullen releases off the shelves of record stores for the best part of a decade in which he concentrated on DJing. Since 2010 though Stacey Pullen and Blackflag Recordings have been back in action and issuing music. His most recent EP 'ROK' was released in July 2016.
Marko Kutlesa caught up with Stacey Pullen at home in Detroit, getting his composure after just leaving his kickboxing class. Prior to Pullen's appearance at a special Drumcode night (watch his Movement DJ set below), curated by label head Adam Beyer, Stacey talked about his life and career to date.
Have you always maintained a healthy lifestyle?
Yeah, you've got to. You don't really have time to do it when you're on the road, so when I'm at home I try to be as healthy as possible. The DJ's life, half the time it's just sitting down on airplanes, sitting in a taxi, sitting, waiting in a hotel room where there's only a bed.
Aside from the sports, the DJing and the music production, do you have any others hobbies?
Yeah, I like interior design. I collect vintage, mid century, modern furniture. So, I'm really into artists like Mies van der Rohe, LeCorbusier, George Nelson, Frank Lloyd Wright, a lot of mid century modern artists who make minimal furniture, Eames chairs, stuff like that. So I scour the internet and antique shops for stuff to buy. Half of my house is pretty much used, vintage furniture.
Are there any places in particular where you look forward to visiting, when you're travelling Europe Djing, because you can go shopping for stuff like that?
Yeah, there are many places. I find a lot of things in Amsterdam, Paris, London, some places in Barcelona. If I can't take it with me there and then sometimes I'll have to get it shipped home, which takes a couple of months because you have to do all the duty and customs forms. If it's something small I'll take it on the plane.
Were you a Friday night or a Saturday night guy at The Music Institute?
I was a Friday night guy. I was all about the techno. I was all about hearing Derrick play with D Wynn on Fridays, that was more my type of energy. Derrick was my God at the time. I loved how he resonated with the crowd, playing the music that he did.
Musically speaking it was a bit deeper on a Friday. A little bit more artistic and more risque. Saturday nights were more house, more vocals, more disco influenced, more Chicago, more New York disco based. That was with Chez Damier and Alton Miller. It was a cool night, I still enjoyed it. I think the first time I heard Frankie Knuckles "Tears" was at that night. That was their vibe. But, for me, I was more a Friday night guy.
Derrick May, who mentored you, also mentored Carl Craig, who he told to concentrate on studio productions and not on Djing. Did he give you that same advice?
No, because when Carl started out he was more of a musician. He didn't really pick up the DJing aspect of it until way after he'd actually got into the music. Carl played guitar, he was more musically trained than almost everyone else in our crew. That's why Derrick told him that. Me? I started out as a DJ first, so it was different for me. When I moved over to Amsterdam with Derrick he already knew I was established in DJing.
You did your first live performance in 1992. What was it about the show that meant it was a performance medium you didn't want to pursue?
It was the whole set up. Having to bring the equipment out of the studio or having to rely on the promoter to rent it, the responsibility of setting up a studio on the spot. It was nerve-wracking. The gig itself was fine. I had Alton Miller play congos on the side of me. I had a little Midi set up and a little DAT set up, so I play stuff off that.
But it was too much preparation when what I really wanted to do was pretty much just get up there and DJ. It was a good learning experience, but at that time it was just a bit much. Even to this day, with laptops and Midi controllers I get more enjoyment out of playing other people's music.
It's interesting that you say you were a Friday night guy at The Music Institute, yet on your first live gig you had Alton playing congas and, of course, you went on to record 'Forever Monna' with the club's other Saturday night resident Chez Damier.
Yeah, well, it was a community, man. There were like 12 or 13 of us and we didn't have to travel further than a two mile radius, because we had KMS, Metroplex, Transmat studios all in one building with The Music Institute just a mile and a half away. We didn't have to travel too far to be creative. Techno boulevard is what they called it.
How did that 'Forever Monna' track come about?
Well, we had access to KMS Studios when Kevin wasn't there, when he was on tour or whatever. I think by that time The Music Institute had closed so we didn't have that outlet for us anymore. So, we were just hanging out at the studio and we were just jamming.
Chez sampled the strings from 'The Dance' by Rhythim Is Rhythim (Derrick May) on Transmat, that's how we got the long strings at the beginning. I came in and did the syncopated synth line that sounds like chimes, that was like the melody of it. Chez did the drums and then the bassline came.
I remember it being very late in the evening, well, early in the morning when we did that, lights down low. We never knew it would end up being such a classic, but I guess it is because it's had a bunch of represses. It originally came out on Serious Grooves, which was a KMS side label.
What European relationships did you develop from the time that you moved to Amsterdam that have stayed with you to this day?
Mr. C from The Shamen/Plink Plonk/The End in London, he's still a good mate of mine. I remember having sessions at his studio in London, around the time he used to do Vapourspace. I released a couple of tracks on his label, Plink Plonk, and we still keep in touch. I did some things with R & S Records, but they were pretty much done through Transmat. I've had my affiliations, but I decided to come back home and focus on Detroit.
Skiddle interviewed Mr C in the last 12 months and he's pretty serious about getting into acting. He's moved out to LA to pursue that.
Yeah, from being the frontman in The Shamen it was obvious that he had that theatrical side to him. He's always very vocal on Facebook too. Some people get satisfaction by being able to express themselves in ways that aren't just music. Good for him! We need a bit of personality in what we do, it can be so serious at times.
A bit like Kenny Larkin and his stand up comedy?
Yeah. Kenny's a naturally funny guy anyways, you know. I remember meeting him for the first time and thinking he was the biggest nerd but also the funniest guy as well. It's just natural with him, makes me wish I was funny. Makes me feel like I'm dry and boring when I'm with him because he has that, like maybe I should liven up a little instead of being so serious all the time, just thinking about music and furniture.
Under what circumstances did you end up licensing your label Black Flag to a major label?
It just came around at the right time. I remember being in London and I got a message from the hotel saying this guy from Virgin Records had phoned the hotel for me. It was completely out of the blue. I don't know how he tracked me down. I called him back and he said he wanted to talk with me about possibly releasing my music. That's the musician's biggest dream, especially at that time.
My music was just hitting the market, it was a great opportunity. At the time Lenny Kraviz, The Spice Girls, Janet Jackson and The Chemical Brothers were on the label and here I am, this little guy from Detroit, getting courted by them. It was an enjoyable experience, but it was also a learning experience. The money was great, I had creative control, it was just the fact that when I did finish the album, although it was great, it wasn't quite what they were expecting.
I'd made it around the time I'd been reading Miles Davis's autobiography and listening to lots of Thelonious Monk and John Coltrane. I was really fascinated with the jazz era and how I could incorporate that into techno. I had a five album deal, but when it came round to taking the options on a second album, they didn't take up that option. But I'd signed and licensed my label for 10 years.
I kinda got jaded with the business at that point, because I couldn't do anything with the label or under the name of Stacey Pullen, so I just picked up the DJ bug more and did that until 2012, when the license deal expired. I've been releasing music periodically ever since.
So they also had the rights to releases of music made under the name Stacey Pullen. Why didn't you just revert to using the Kosmic Messenger alias to release music elsewhere?
Well, I did. I released an album as Kosmic Messenger (Stacey Pullen presents Kosmic Messenger 'The Collected Works Of Kosmic Messenger') on Elypsia, a Belgian label, around that time. I did a few remixes too. But I was pretty jaded at that time, I didn't really want to release anything. I didn't really want to have too many pseudonyms going as well, because people can get lost with trying to figure out who you are. I was living in Europe and DJing was easy and fast money.
Is there any definable difference between the music you have made as Stacey Pullen, Kosmic Messenger and Bango?
Yeah. The Kosmic Messenger was more straightforward, four-to-the-floor techno. My Stacey Pullen album was me finding myself as an artist, injecting a little bit of the cultural aspect of my heritage into techno. I was reading a lot at the time and watching a lot of movies about black culture and African culture, how the African culture was the basis of the rhythm.
The Bango tracks were more sample based. When I first got with Derrick May and Transmat I gave him a track and he said he couldn't release it on Transmat because it had samples in it. Transmat was 100% artist created music, no samples. So, the Bango stuff, which I'd made using an Akai S1000, had to go on a side label.
Some of your earliest recordings displayed an influence of African music. Is the music of Africa a love that has stayed with you throughout? Do you actively dig for African music?
Not as much as I used to. It was in the 90s and it was the right time for me to learn about my culture. I was in my 20s, I'd grown up in Detroit, I'd been separated from that by moving to Europe. I was learning things that I hadn't learned at school and it felt like a natural path to follow at that time.
I was hanging around a lot of Muslim guys at the time. They would pray five times a day and teach The Qur'an. Although I wasn't Muslim, I liked to hang out with those guys. They were serious and they had a lot of knowledge. They had a lot of insight about who I was, as an African American travelling around the world. They gave me a sense of who I am. It was an important time for me, back then, to learn those things.
You've mentioned jazz music and African music as being inspiring to you at different points in your career. Have there been any other genres of music that you've dug for a while that have similarly inspired you?
I listened to a lot of 80s music, stuff made after the Linn drum became popular. Prince used it frequently and then quite a few 80s soul groups started using it along with synthesizers. I didn't really listen to it at the time, because I'd just gotten into Chicago house and then Detroit techno, but I went back afterwards and went through a lot of it. I was interested in how the electronic music was combined with the R&B sound. In the 60s and 70s it was a much more organic sound.
Also, a lot of European electronic music. Kraftwerk and Italian disco. Italian disco was played so much here. All of the Detroit DJs like Delano Smith, Derrick, Juan....all of the guys who were a bit older than me, they started out playing Italian disco. It was a huge inspiration on what we did in Detroit in techno.
You're celebrating your fifth year as a resident for Music On at Amnesia in Ibiza. Do you tailor what you do for the crowds there or are they getting pure unadulterated Stacey Pullen?
Well, I like to say that I adapt to the changing times of the club scene and the industry. I've always liked and played music that wasn't just from Detroit. Modern music has changed so much. I like to incorporate my knowledge and history, who I am and where I'm from, but to adapt it to what's going on now.
In Detroit we didn't just innovate with the music but also with the way we deliver the music. So, I do adapt. If I stayed doing the same thing I would get bored.
In what respects do you see the music that is known as Detroit techno being the Motown of its age?
We've had such a rich musical history in Detroit since the Motown sound emerged. Detroit techno took a lot from that. You put on a Motown record and you can tell instantly it's that. You hear that snare, you hear that reverb on the vocals and on the drums. Same with Detroit techno, you know it instantly because of the chords or the definition of sound.
Do you think that those in the second generation of producers in some respects tried to adhere to rules set by the three founding fathers?
Yeah. That's what you call a movement. I'm right along with that, because I'm part of that second wave of guys who came out like Kenny Larkin, Underground Resistance, Carl Craig, Robert Hood. We all tried to keep a tradition at some point and travel the word as ambassadors for our city and its sound. Those guys laid the foundation for us. We had a community, a bond, before techno took off internationally.
When I saw those guys being entrepreneurs, selling their own records, on their own labels, travelling the world, I knew I wanted to be a part of that. I didn't want to be confined to a suit, a tie and an office desk. These guys were wearing t shirts, jeans and being artists.
Do you think Detroit's current wave of producers are freed from those rules laid down by Derrick, Juan and Kevin?
Yes, definitely. You have so much different technology now. You have music at the tip of your fingers. We went to the record stores, we went to the clubs, we listened to the radio and cassette tapes. That made it special. There was a community.
The younger generation, the first thing they seem to want too do is move to New York or Berlin. They feel they can go there, say "I'm from Detroit" and it'll happen for them that way. We stayed here and we made it sustainable by doing that.
The younger artists see what's out there on the internet and they want to go out and grab it. It's not the same any more, they don't have those clubs we used to go to, they don't have the radio we used to have. Places like London, New York and Berlin do have those things. That's where the scene is flourishing.
One aspect that doesn't seem to have transferred to this younger generation like Moodymann, Omar S, Theo Parrish and Kyle Hall is the fascination with science fiction that was displayed with both the first and second generation techno artists in everything from Alan Oldham's artwork to song titles, DJ names and label names. What do you think they have taken from you?
I think they've recognised the underground of Detroit. Guys like Ken Collier. He was a great DJ here in the gay community and he had the first residency even before The Music Institute. Ken was the DJ's DJ, he was sort of like Ron Hardy was in Chicago. He influenced us and also them. He was all about having hot tracks, that no-one else would have, that would just blow up on the dancefloor.
These newer guys from Detroit aren't so much interested in watching Star Trek, like Juan Atkins. It's a different era. But they are interested in moving the dancefloor and using exclusive tracks to do it, like Ken Collier. They have a real inner city Detroit sound. Their sound is more inspired by listening to the streets than by watching science fiction. It's just a different angle.
What do you make of producers from Detroit's newer generations?
For me, my favourite two Detroit artists of all time are Moodymann and Jeff Mills. By far. Moodymann is all about the community here. He just moved actually, but his sound is all about listening to the people of Detroit. He doesn't confine himself to what people think he should be.
Jeff was the first guy I saw DJ in a club in Detroit. I was 15 years old and I went to watch him performing as The Wizard in Ann Arbour. He was really the one who showed Detroit just what was possible with two turntables and a mixer. To see him now, doing the things he's done, like performing in an art gallery in Paris, doing science fiction film scores to playing with philharmonic orchestras, it's amazing. For me, they are two of the most important artists Detroit has ever seen.
Will there be another generation of Detroit artists that we've not yet heard about?
I hope so, but now that the world seems to have got smaller and the scene more international, a lot of artists are getting their influence from all sorts of places. I'm not home all that much, but I do try and listen to what the artists here are trying to do. We haven't got a strong techno scene like it once was. You have the internet now and you don't need to go to the club or the record store to find influence.
So, they get inspired by other places and can use the Detroit name to open doors for themselves internationally. You have people like Kyle Hall and Omar S who are really great, they seem to have taken up the reins, but as for the next generation after that? I don't know. There's a guy called Jay Daniel (the son of Naomi Daniel), who's a good friend of Kyle, but other than that? We'll have to wait and see.
Get Drumcode Halloween tickets here or below.
More like this? Read Ellen Allien Interview: Keep Things Moving
Tickets are no longer available for this event