One of the longest and most drawn-out quiet periods in the history of British music is finally over - Gigs are back!
Across the land, musicians can be seen reappearing from the depths of their rehearsal rooms and studios, all bleary-eyed and bewildered. Stepping out into the summer sunshine for the first time in months, with a catalogue of new music in the bag, they're loading their instruments into vans and preparing once again to live life back out on the road.
Meanwhile, UK venues big and small have been busy clearing their stages, testing equipment, reconnecting barrels and cleaning facilities excessively in anticipation of the arrival of both the artists and the fans.
The atmosphere out there is new. It's different. It's refreshed. The energy on the dancefloor. The eagerness of the crowds and the adoration for the music... It's an extraordinary time. So, what are you waiting for? It's time to get back to it. Get involved, get out there and experience it for yourself!
There are hundreds of fantastic events to choose from, with something to suit all requirements - from indie newcomers to post-punk stalwarts, overseas rappers and folk storytellers. Below, you'll find just a small taste. Don't hesitate, secure your tickets today!
(Click or tap on the event titles and artist names below for tickets and more...)
The Altered Hours at Future Yard in Birkenhead
When: Saturday 20th November 2021
Where: Future Yard in Birkenhead
Hypnotic psych-rockers, The Altered Hours arrive at Birkenhead's Future Yard music venue courtesy of Harvest Sun promotions this November.
Signed to artist-led label, Pizza Pizza Records, the Irish five-piece, whose many influences include the Velvet Underground, Pixies, Iceage and French avant-pop act, Stereolab, have become renowned over the years for their signature, abstract and expansive sound.
Merging attributes of noise-rock and punk with the repetitive arrangements akin to those found in post-rock, and fusing with candid lyricism discussing current themes, the group have carved out their own unique path, scoring them something of a cult following both here in the UK and across the neighbouring European continent.
Experience their expressive live show in Birkenhead on Saturday 20th November.
Find tickets for The Altered Hours at Future Yard - here
-
---
Natalie McCool at Kazimer Stockroom in Liverpool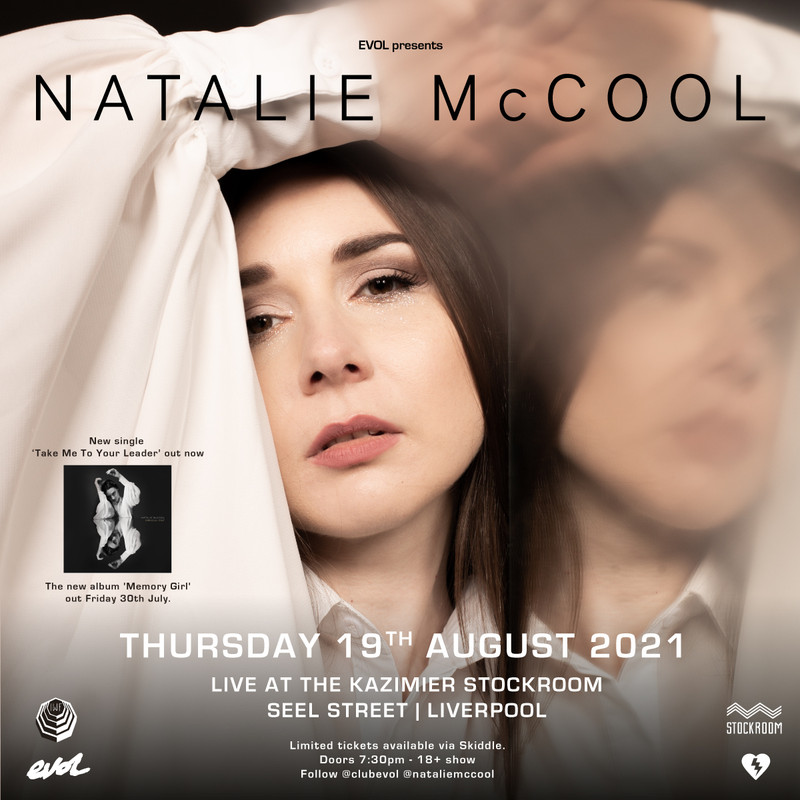 When: Thursday 19th August 2021
Where: Kazimier Stockroom in Liverpool
Liverpool native, Natalie McCool will celebrate the launch of her forthcoming third album in her own backyard this August.
Hailed a future indie star and gaining critical acclaim from a number of credible media outlets, the young singer-songwriter, who's previously scooped the Yamaha-sponsored National Songwriting Award, will perform her new LP, Memory Girl to a limited audience at the Kazimer Stockroom, in its entirety.
Due for release at the end of this month, the ten-track record, which features previously issued singles 'Closure, 'Devils', 'Heaven and most recently, 'Take Me To Your Leader', will also get a full run through the evening before the Liverpool show, in the English capital.
Want our advice? Keep a keen eye on Natalie, she's a huge talent and we fully expect to see her doing big things this year!
Find tickets for Natalie McCool at Kazimer - here
-
---
Katherine Priddy at Leaf in Liverpool
When: Thursday 2nd December 2021
Where: Leaf in Liverpool
It took emerging folk star Katherine Priddy the best part of a decade to complete and release her first album offering, and boy has that time been spent wisely. Widely well-received, gaining four out of five stars from critics at The Guardian, RnR Magazine, The Observer and MOJO, she's now planning on taking her long-awaited new record, The Eternal Rocks Beneath out on the road at the end of the year.
Scheduled for a performance at Liverpool venue, Leaf this December, the Birmingham-based artist will showcase her beguiling vocal gift and technically adept guitar playing, heard on ethereal tracks 'Indigo', 'Eurydice' and lead single, 'Wolf'.
Be sure to catch the seriously talented performers' mesmerising live show at the end of the year, in Liverpool.
Find tickets for Katherine Priddy at Leaf - here
-
---
Mykki Blanco at 24 Kitchen Street in Liverpool
When: Saturday 6th November 2021
Where: 24 Kitchen Street in Liverpool
Rapper, activist, poet, performance artist... When it comes to the arts, American visionary Mykki Blanco is one of the most accomplished.
A brilliant, forward-thinking and pioneering creative whose music has heralded a brand new era in hip hop culture, queer rap, Blanco has worked previously alongside some of the biggest and most respected music names on the planet - from the G.O.A.T, Kanye West to Blood Orange and queen of pop, Madonna.
In support of the gender-neutral artist's latest LP, Broken Hearts & Beauty Sleep, released via Transgressive Records just over a month ago, Blanco will arrive in Liverpool on day 6 of their forthcoming EU/UK tour, on Saturday 6th November. Make sure your present to hear huge tracks 'Summer Fling' and 'Free Ride'.
Find tickets for Mykki Blanco at 24 Kitchen Street - here
-
---
When: Friday 3rd December 2021
Where: The Grace in London
Rowdy indie rockers, Liverpool's Bandit have been lighting up the airwaves as of late, championed by the likes of BBC Radio One's Jack Saunders, on the 'Fresh Artists' show and various presenters at Radio X. Also gaining support from curators and upholders of the DIY and underground scene the likes of BBC Introducing and Fred Perry, the band look destined for big things in the months and years to come, having already won the International Songwriting Competiton back in 2019.
With a particular knack for producing lively indie anthems, loaded with big beats, guitar melodies and massive sing-a-long choruses, we can absolutely see these boys featuring on festival lineups up and down the UK in 2022.
Embarking on a mini-tour throughout November and December this year, the four-piece will arrive at London venue The Grace, on Friday 3rd December. Tickets are available below...
Find tickets for Bandit at The Grace - here
-
---
Girli at Arts Club Loft in Liverpool
When: Friday 3rd December 2021
Where: Arts Club Loft in Liverpool
London-born singer-songwriter and rapper, Milly Toomey AKA Girli is the Japanese Harajuku-inspired Cyberpunk and politically motivated feminist, who's music is capturing swathes of music fans all over the world.
A rebellious innovator, chaotically bringing together elements of electronica, pop and punk to produce her own distinctive grunge-influenced 'Riot Girli' sound, she's challenging all preconceived notions of what it means to be a female pop artist in the present day.
Taking cues from fellow pop reformer Grimes as well as citing some other less obvious influences such as Lily Allen, The Streets, and Metronomy, she's one of the most intriguing stars to breakthrough into the mainstream, backed the likes of BBC Radio One, in recent times.
Performing live at Liverpool's Arts Club this December, don't miss your chance to witness this flamboyant trailblazer doing her thing live.
Find tickets for Girli at Arts Club Loft - here
-
---
Fancy getting out to a gig this week?
Check out the following live shows with tickets still on sale...
Jonny Brown (Twisted Wheel) in Preston
When: Friday 30th July 2021
Where: The Ferret in Preston
Jonny Brown, frontman of punk-tinged indie band, Twisted Wheel, heads to The Ferret live music venue in Preston this weekend for a very special and intimate performance.
The 34-year-old singer who reformed Twisted Wheel back in 2018, following years spent battling addiction, is set to deliver a setlist stocked with some of the bands' biggest hits - from 'You Stole The Sun' to 'Black and Blue' from last years album, Satisfying The Ritual - as well as his own critically acclaimed solo material.
Be sure to catch the talented singer-songwriter at one of his first non socially distanced shows since the pandemic began.
Find tickets for Jonny Brown in Preston - here
-
---
When: Thursday 29th July 2021
Where: Firebug in Leicester
The musical output of punk-rock outfit, LIFE is living proof that guitar music here in the UK is in fact, most certainly alive and well.
The foursome, hailing from Hull in Northern England, have been a regular feature on BBC 6 Music playlists and within publications and zines, the likes of the NME, DIY Mag and The Line of Best Fit, to name a few, since breaking through with debut LP, Popular Music back in 2017.
Their latest effort, sophomore record A Picture Of Good Health has also recently seen the group gaining further plaudits, catapulting them to new levels of recognition the likes of which has been experienced by fellow punk acts, IDLES, Shame and Fontaines D.C.
For fans of jagged guitars, foot-stomping rhythm sections, satirical lyrical content and charismatic vocal delivery - think Mark E Smith of post-punk pioneers, The Fall and you're somewhere close.
Find tickets for LIFE in Leicester - here
-
---
The Futureheads w/ Tom Lumley & The Brave Liaison & Pocket Symphony Orchestra in Peterborough
When: Saturday 31st July 2021
Where: The Met Lounge in Peterborough
In partnership with the National Lottery and the Music Venue Trust, iconic post-punk group The Futureheads will head out on the Revive Live tour, performing live this Saturday at Peterborough-based music venue, The Met Lounge.
The Revive Live tour, an initiative to help grassroots music venues get back up and running following 18 months without music fans or live acts, will see a number of renowned collectives and solo musicians giving special performances on stage at independent venues across the UK. Artists so far confirmed to participate in events include Fontaines D.C., Sir Tom Jones, Frank Turner, Sam Fender, Rag N Bone Man, Mahalia and many more...
Supporting The Futureheads at this weekend's show are Cambridgeshire rockers, Tom Lumley & The Brave Liaison and Peterborough's very own Pocket Symphony Orchestra.
Find tickets for The Futureheads in Peterborough - here
-
---
---
There are hundreds if not thousands of excellent gigs scheduled to happen throughout the remainder of the year in venues across the UK! Head over to our Live page and see for yourself - Tickets now on sale