Event has been postponed.
New date to be announced in due course.

Info: Covid-19.
Skiddle have asked the event organiser for a rescheduled date by 23rd Apr 2020.
AVA Festival 2020

on Thursday 28th - Sunday 31st May 2020

Please note, this event has been postponed.
New date to be announced in due course.

AVA FESTIVAL + CONFERENCE 2020

COPENING SHOW - 28th May, The MAC with Max Cooper (Live)
AVA CONFERENCE - 29th May, The MAC
AVA FESTIVAL - 29th + 30th May, Boucher Road Fields
AVA CLOSING PARTY - 31st May


6 YEARS OF AVA.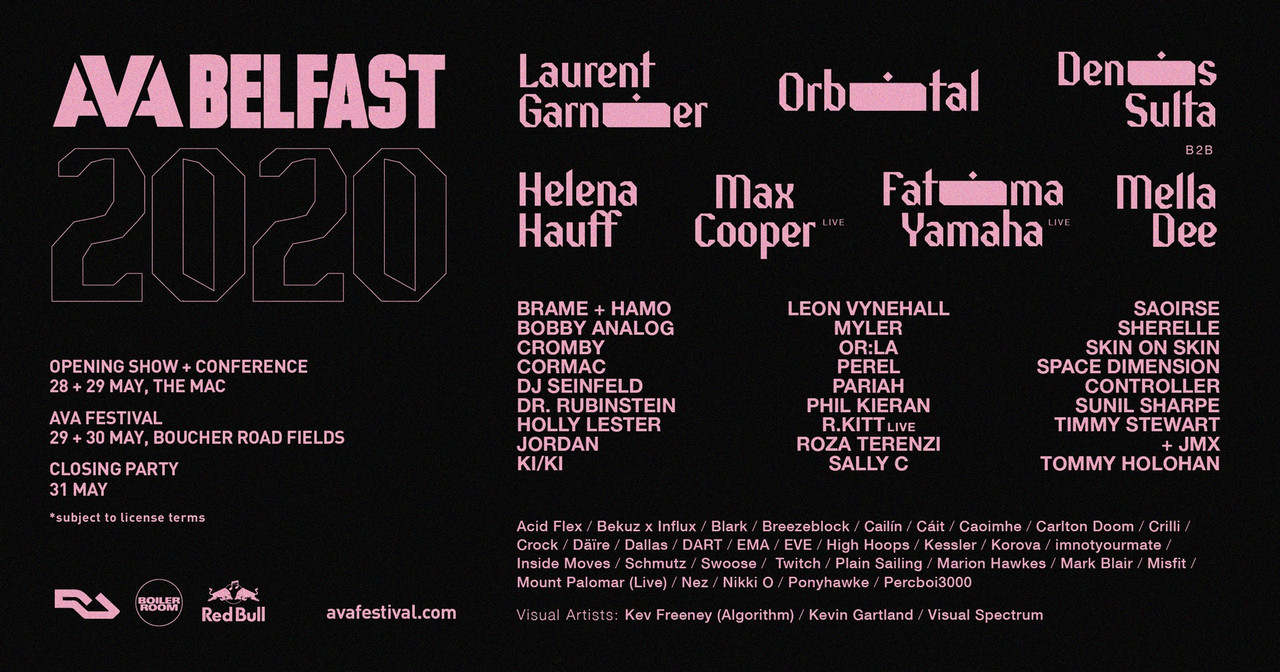 Orbital
Laurent Garnier
Denis Sultra b2b Mella Dee
Fatima Yamaha (Live)
Helena Hauff
Leon Vynehall
DJ Seinfeld
DJ Rubinstein
Or:la
Parish
Brame + Hamo
Cromby
Saoirse
Sally C
Space Dimensions Controller
Sherelle
Sunil Sharpe
Roza Terenzi
Perel
Tommy Holohan
Bobby Analog
Cormac
Holly Lester
Eve
High Hoops
Jika Jika
Jordan
Kessler
Ki/Ki
Korova
Myler
Imnotyourmate
Phil Kieran
Inside Moves
R. Kitt (Live)
Schmutz
Skin On Skin
Swoose
Timmy Stewart + JMX
Twitch
Acid Flex
Plain Sailing
Bekuz x Influx
Marion Hawkes
Blark
Mark Blair
Breezeblock
Misfit
Cait
Mount Palomar (Live)
Cailin
Nez
Caoimhe
Nikki O
Carlton Doom
Ponyhawke
Crilli
Percboi3000
Crock
Daire
Dallas
Dart
Ema
Music Genres:
Disco, Funky House, House, Tech House, Techno

Please note: The event information above has been added by the organiser. Whilst we try to ensure all details are up-to-date we do not make any warranty or representation as to the accuracy or completeness of the information shown.
Various Venues In Belfast Belfast: Nearby Hotels & Airbnbs
Need a place to stay? Compare every available hotel deal and Airbnb near Various Venues In Belfast, so book today to secure the best price!.
Please note, venue location is plotted according to the venue's postcode which is provided by the event organiser. We do not check the accuracy of venue or hotel locations or dates so please check before booking or travelling
Various Venues In Belfast in Belfast
Boucher Rd,
Belfast,
BT12 6EU