Event has been postponed.
New date to be announced in due course.

Info: Covid-19 Pandemic.
Skiddle have asked the event organiser for a rescheduled date by 11th Jun 2020.
Leeds Festival 2020

on Friday 28th - Sunday 30th August 2020

Please note, this event has been postponed.
New date to be announced in due course.

For the most up-to-date information about this event, please go here: Leeds Festival Guide

Once again Skiddle returns as an official outlet for Leeds Festival tickets. Leeds Festival boasts an ever impressive and diverse line up, ranging all the way from punk and metal, through to rock, alternative, indie, dance, and electro; these are a few of the reasons why Leeds Festival 2020 is going to be very special.

Leeds Festival has developed something of a habit of attracting some of the biggest global superstars, and hottest new bands on the planet to their Yorkshire home. 2020 is set to be no different.

At Leeds Festival 2020 music fans will have the chance to experience a whole host of new acts and local bands in the smaller tents as well as the more established ones on the main stage. There are also great comedy acts in the alternative tent for when you require a welcome rest from the mosh pit!

Leeds Festival is set to be one of the most electrifying, and unforgettable festival experiences happening in Britain this year.
2020 line up announced so far...
Rage Against the Machine
Stormzy
Liam Gallagher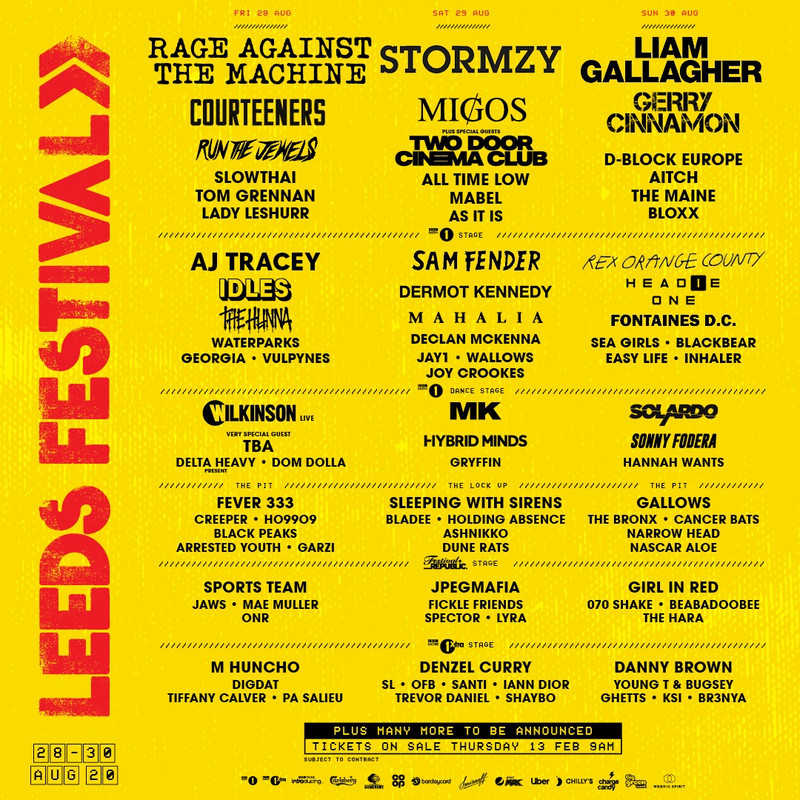 Music Genres:
Alternative, Hip Hop, Indie, Metal, Punk

Please note: The event information above has been added by the organiser. Whilst we try to ensure all details are up-to-date we do not make any warranty or representation as to the accuracy or completeness of the information shown.
Bramham Park Wetherby: Nearby Hotels & Airbnbs
Need a place to stay? Compare every available hotel deal and Airbnb near Bramham Park, so book today to secure the best price!.
Please note, venue location is plotted according to the venue's postcode which is provided by the event organiser. We do not check the accuracy of venue or hotel locations or dates so please check before booking or travelling
Bramham Park,
Wetherby,
LS23 6ND
Tel: 01937846000