It seems that almost every county nationwide is now in tier 3, the highest of the governments Coronavirus tier system, following Number 10's most recent announcement. Emphasis on the word 'almost'.
We don't know who is responsible for making these decisions, and what set of data they're looking at (like seriously, scratching our heads, proper confused here), but on behalf of the entire population of Liverpool, Skiddle would like to say thank you to that decision maker. You've single handedly rescued some sort of festive celebration for the Liverpudlian people.
That's right, Liverpool and some other place down south (only kidding, we love you Bristol) have managed to escape tier 3. So what does that mean we hear you ask? (We're not going to lie, we had to do some of our own research to find out)
It means, if you live in Liverpool, you CAN go to that party you've got tickets for, and either abide to the rule of six and sit outside a venue or sit inside if your going with those in your own household. It means pubs, venues and bars CAN serve you drinks as long you're having a substantial meal. It also means that the unofficial countdown, which will now take place at 10pm instead of midnight, will still go ahead!
Not all bad news then, for those of you lucky enough to live in a tier 2 county. The rest of us will just watch re-runs of Strictly or the Eastenders special (is there even an Eastenders special this year?) whilst eating leftover Christmas snacks. Result.
Have a look below at the list of New Years Eve happenings in Liverpool, still flying the festive party flag on Thursday 31st December 2020.
Snag yourself a ticket quick sharp or risk disappointment. You have been warned...
Where: 24 Kitchen Street, Liverpool
Join the team at 24 Kitchen street, one of Liverpool's most unique and multi-faceted events spaces, this New Years and shake off those 2020 blues.
Prepare for a musical experience through disco, house and soul, accompanied by a menu chock full of culinary delights and some of finest drinks in the city.
This is a seated event with tables of up to 6 still available to book.
Where: Baltic Market, Liverpool
Enjoy a taste of normality this New Years at one Liverpool's trendiest spots.
Head down to the city's first ever, street food market on December 31st and enjoy a buffet of substantial, gastronomic delights and speciality beverages - from rustic wood fired pizza's and mouth watering Greek Gyros, to excessive cocktails, proseco and an assortment of craft ales.
Consisting of two three hour sessions, an afternoon session running from 2pm until 5pm and an evening session from 7pm until 10pm, ticket holders will be entertained throughout their chosen sitting with an hour long crowd warming performance from a local DJ, followed by two 45 minute slots from a well-known, local band.
Tickets for this event have almost sold out. Act fast and get yours now.
NYE unlimited '90s tribute Night
Where: Paradox, Wirral
Prepare for a journey back in time to the golden era of dance for a proper, old-skool end of year party at Paradox this New Years Eve.(Please, rave responsibly).
Expect an excess of floor filler anthems from the likes of club favourite Robin S, GALA, Culture Beat and more.
A host of live entertainers will perform throughout the evening with a special appearance from one of the UK's most sought after dance tribute acts - Ultimate 90s Live.
In addition to some of the best entertainment on offer in the North West this New Years Eve, punters can also expect a varied and appetising menu of drinks and sustenance - including an extensive wine and cocktail list and a festive food menu.
The event will begin at 4pm and run through until 11pm, with an unofficial New Year countdown taking place at 10pm.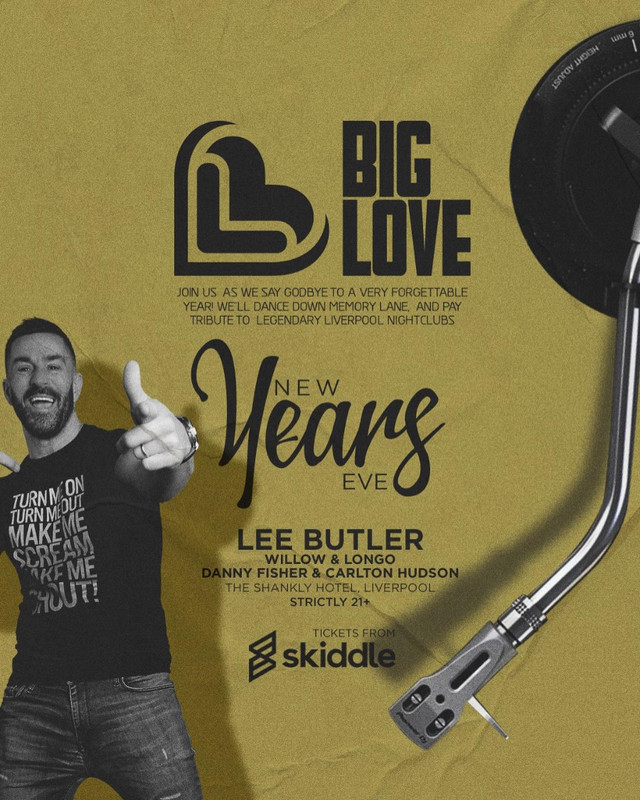 Where: The Shankly Hotel, Liverpool
Join infamous Liverpudlian party throwers, Big Luv at one of the cities most luxurious venues, The Shankly Hotel this New Years Eve as they wave goodbye to 2020 in style.
Legendary British house DJ and radio presenter, Lee Butler will head up a bill of renowned selectors on the night, with support coming from Danny Fisher, Carlton Hudson and Willow & Longo (aka Mick Willow and Ian Longo).
Expect to hear a variety club classic tracks pumped through an almighty sound system, on the roof terrace of this historic hotel and venue.
The event will run from 2pm until 11pm. Tables for up to 6 are still available to book with a special 'Stay and Play' package also available for those who wish to stay in the hotel over night.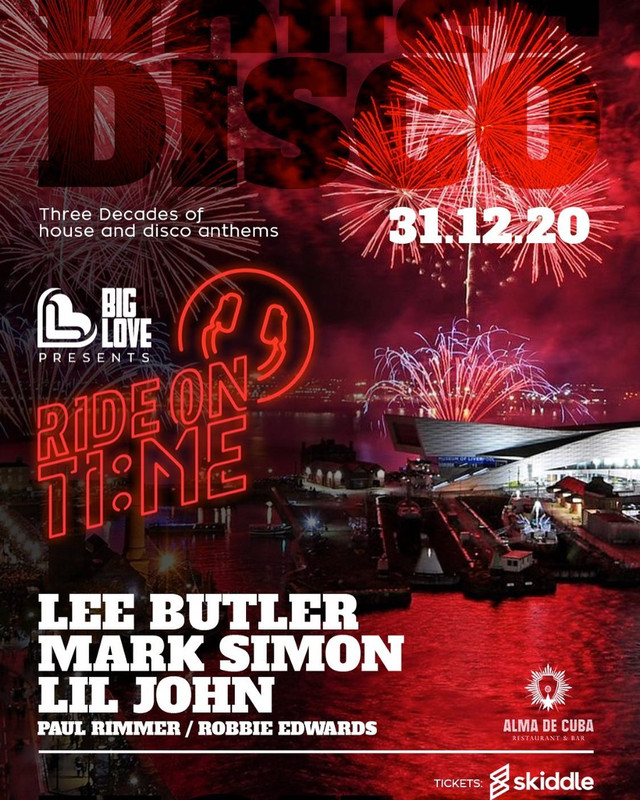 Where: Alma De Cuba, Liverpool
Another Big Luv presents party taking place in the city on New Years Eve - Ride on Time.
Once again featuring the services of renowned house DJ, Lee Butler, this end of year celebration, held at the Alma De Cuba restaurant and bar, will honour the past three decades of house and disco.
Alongside Butler on the lineup, DJs Mark Simon, Lil John, Paul Rimmer and Robbie Edwards will select some of the best and most iconic club cuts from the past, leading into the sound of the future.
This event will run from 5pm until 11pm. For those wishing to spend the night in Liverpool after the event, discounted rooms are available for ticket holders at The Signature Living Arthouse Hotel.
Where: Blundell Street Music Lounge, Liverpool
Fancy spending your New Years Eve tucking into a delicious three course meal, in one of the city's hippest and trendiest spots, whilst being serenaded by the sweet sounds of Motown? Sounds good, right?
Well, the Blundell Street Music Lounge has got just the event for you.
Located in Liverpool's Baltic District, this spacious warehouse conversion, perfect for socially distanced events, is one of Liverpool's leading venues for food and live music.
Join vocalist Colin Gibson as he sings his way into the new year on December 31st, covering hits from the swing and Motown era.
There are a limited number of 'Dinner and Show' tickets remaining for this event. Don't delay, get your tickets now.
Queer New year: What Ever Happened to 2020?
Where: Fashion Hub, Liverpool
Head to one of Liverpool's more unique and fashionably creative spaces on the turn of the new year, for a Queer start to 2021.
Hosting the event in aid of Liverpool's leading homeless and housing charity - The Whitechapel Centre, The Queer New Year team will welcome guests to it's first socially distanced party, following their first event in 2019.
Join the team in raising much needed funds for a worthy cause on December 31st. Those in attendance can expect to hear a selection of massive tracks from some of the biggest names in music, throughout the night - from Cardi B to The Clash, David Bowie, Diana Ross, Harry Styles, Janelle Monae, Kylie Minogue, LaToya Jackson, Marvin Gaye & Tammi Tarrell, Megan Thee Stallion, Miami Sound Machine, The O' Jays, Prince, Syreeta, YUNGBLUD and many more.
Tickets for this event are selling quickly, be sure to get yours before it's too late!
LDF x NYE pres. Hustle w/ Jimpster (socially distanced)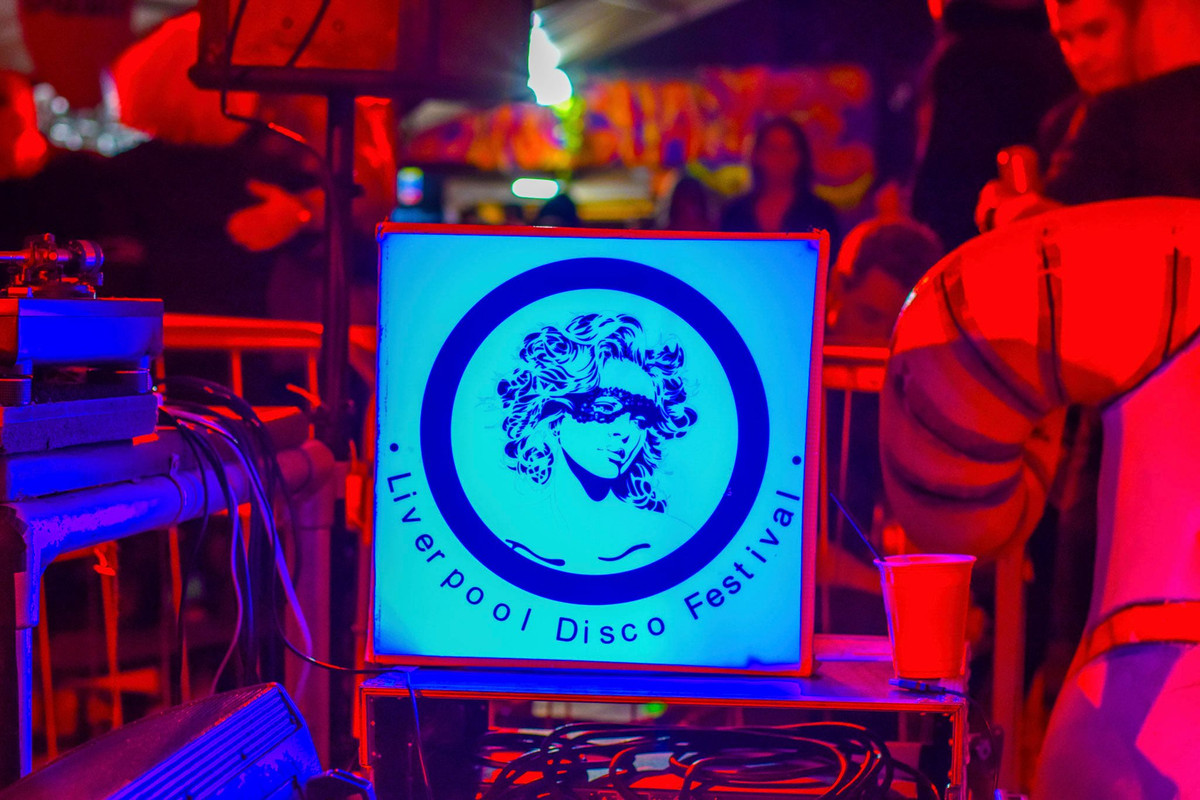 Where: Hangar 34, Liverpool
The Liverpool Disco Festival team are planning a New Years Eve house party to rival all others on Thursday 31st December 2020.
Taking place at one of Liverpool's newest multi-use event spaces - Hangar 34, those who have managed to acquire tickets for this in demand event will be spoilt to a headline performance from one of the UK's biggest DJ names.
Free Range Records founder and highly regarded British house supremo, Jimpster, otherwise known as Jamie Odell, will see out 2020 in his usual energetic style. Performing a mix of soulful house and deep house classics, up until doors close at 11pm, the heavyweight producer will also be joined on the night by a host of yet to be announced emerging and established talents.
Follow the link to the event page above, and sign up to be notified when and if tickets become available.